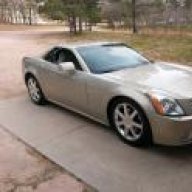 Joined

Sep 2, 2013
Messages

563
Location
My XLR/V(s)

2006 Gold Mist XLR & 79' Eldorado Convert
Another project going on. A month ago I came across a 1978 Olds Tornado on Craig's List in Scottsbluff Nebraska. The car is a basket case but had the original 'all there' 403ci V8 4bbl Rochester with TH 40025 Trans and 3:07 Diff. Hadn't run for a few years. But hooked up a remote gas can, extra battery on hand, primed the carb, and she fired right up. Ran good on 7 cylinders out of 8. Number 6 read '0' compression. All others at 140 lbs. 95,000 miles on odometer. My guess? A valve is stuck open, or broken valve spring. Haven't pulled heads yet.
The car is a rust bucket mess. It is roached, and disgusting to work on. So presently it is up on jack stands in my garage. I am keeping the engine, trans and final drive. The rest of the car, after stripping salvageable parts is going to the crusher. Yes, I know about the weak windowed main bearings on these, but it the same engine used in Trans Ams, 6.6L. For $500 bucks, couldn't pass. Presently waiting on arrival of 2 1/16" hub nut socket to pull CV Axles. Just when I thought I owned every sized socket made. Yeah right.
Neighbors nearby think I am 'nuts', (as does my wife). Yes, evidence of mice evident having called it home. When I pulled the flywheel shield and the starter motor after engine run, found that they had been living in the bell housing. They did not coexist well with the flywheel once engine started even though long previously deceased. As in. Ewww. Yuk!