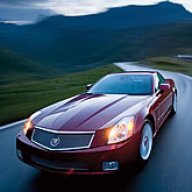 Seasoned Member
Staff member
Site Administrator
Joined

Oct 7, 2006
Messages

5,449
Location
My XLR/V(s)

Not yet!
GM asks dealers to lobby for additional auto loans

November 12, 2008 - 3:00 pm ET

DETROIT (Reuters) -- General Motors today asked all its U.S. dealers to urge the Congress to approve an additional loan package to help the automaker deal with its liquidity crisis, dealers briefed on the matter said.

GM U.S. sales chief Mark LaNeve told dealers to call their representatives and senators to ask them to support GM and the auto industry, saying that 3 million jobs are at risk if the industry does not receive urgent government funding.

"As we're in the midst of the deepest crisis our industry has ever faced, GM's priority is on seeking support from various U.S. government agencies and congressional leaders," LaNeve said in a letter to dealers obtained by Reuters.

LaNeve said GM needs the quick appropriation of the first $25 billion loans already approved by Congress and needs a second package of another $25 billion in loans to "weather the storm," a dealer told Reuters.

"GM asked all the GM dealers and hundreds of thousands of employees to contact their congressmen and senators to approve this as quickly as possible," the dealer told Reuters.

Cash-strapped GM said last week that it is approaching the minimum level of liquidity needed to run its operations and could run out of cash by early next year.

GM, Ford Motor Co. and Chrysler all are burning through cash amid a global credit crunch that has accelerated the decline in U.S. auto sales and placed severe limits on corporate and consumer borrowing.

Chief executives of the three automakers met with U.S. House Speaker Nancy Pelosi and Senate Majority leader Harry Reid last week to discuss a comprehensive aid package of $50 billion -- with half directed as emergency capital. The second $25 billion, to be considered later, would go to a retiree healthcare trust fund to free up cash for other priorities.

U.S. lawmakers have said in recent days that they might support potential efforts to aid the struggling industry.

"Next week, Congress and the current administration will determine whether to provide immediate support to the domestic auto industry to help it through one of the most difficult economic times in our nation's history," LaNeve said in the letter.

LaNeve told dealers the cost of allowing this industry to fail would be "catastrophic" as it would lead to a loss of 3 million jobs within the first year, U.S. personal income reduction of $150.7 billion and a government tax loss over three years of more than $156 billion.

"This level of economic devastation far exceeds the $25 billion of government support that our industry needs to bridge this current period," he said.