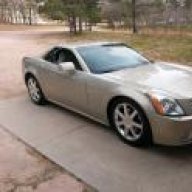 Joined

Sep 2, 2013
Messages

563
Location
My XLR/V(s)

2006 Gold Mist XLR & 79' Eldorado Convert
Shaking the dust off Goldie as she has pretty much been in the garage all winter and our snow is finally gone.
Last storm that dumped 6" of the white stuff left here a little over a week ago. Life at 7,600 feet above sea level. So decided to get her totally operation for some top down Rocky Mountain Cruisin. Today hit 65*
---- First thing, the automatic trunk wouldn't work with fob, dash switch, or close with the trunk button? Yet the top would cycle up and down all the way as well as the trunk. Both fobs have new batteries in them. What's going on? Hmmm? Car battery is a 3 year old AC Delco 590CCA. Removed it and took it in to have tested. Even though I had charged it just beforehand, I was told it was too low to 'Load Test'. Leave it and we'll charge it and then Load Test it. OK Got called with this news. "Battery tests OK on load but real low on the scale. Not dead yet, but it is dying." Hmmm? OK so I bought a brand new 690CCA and installed it. Walla, trunk problems solved. Just to make sure I took it to my Cadillac Dealer, who yes does have a Certified XLR Tec on staff and a Tec 2 Scanner. Said everything is "A OK". But the sub frame radiator support skid assembly is cracked and should be replaced. Weird looking contraption made out of aluminum. So Ordered one on eBay for $299.00. Dealer wanted $590.00 and an additional $400.00 to install. Total, $990.00. Really? "If they could find the part?" Oh well. Will change it myself when it arrives. Prior owner had found lots of speed bumps even though only 35K miles. --- Then the "Stuff Happens" part. Not quite what the bumper sticker says, but one shouldn't swear, right? Got in the car with the 10mm wrench in my hip pocket with the open end part sticking up and out of my pocket and abraded the leather side bolster on the back of the driver's seat.
Now have an appointment on the 24th at our auto upholstery shop in town.

Me. --- Luckily they have The Shale Leather on hand in an exact match.
They do the interiors that need work for our Cadillac Dealer. On lots of research was told that 'dyes/paint', do not work and will flake off. Oh well. Murphy was right. "If something can go wrong it will, and at the worst possible moment."
The battery shows just how sensitive these cars are to low voltage/weak batteries. Yes it is kept on a Battery Tender. Yet, their is constant parasitic battery drain with The XLR's. More so than any other car I have owned before. Maybe we should just replace the battery every 3 years?
Happy Cruisin!