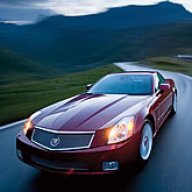 Seasoned Member
Staff member
Site Administrator
Joined

Oct 7, 2006
Messages

5,442
Location
My XLR/V(s)

Not yet!
GM bond exchange falls short of target, setting stage for bankruptcy
May 26, 2009 - 12:16 pm ET
UPDATED: 5/26/09 3:38 p.m.ET

DETROIT (Reuters)
-- General Motors has failed to persuade enough bondholders to accept a debt-for-equity swap, setting the stage for the largest-ever U.S. industrial bankruptcy by the end of this month.
The largest U.S. automaker had so far failed to gain anywhere near the 90 percent of bondholder support desired to stave off bankruptcy, two sources familiar with the discussions told Reuters today. Bondholders have until midnight to make their final decision on the tender.
As of midday Tuesday, the source said the company had only "low-single-digit" interest from bondholders.
Reuters' sources said GM will likely file for bankruptcy some time after midnight Tuesday, but before June 1.
The failure to gain bondholder support is a critical disappointment for GM, the largest U.S. automaker and once considered the standard-bearer of all U.S. manufacturing.
"I would say this is a sound rejection of an unsuitable offer," said Pete Hastings, a credit analyst at Morgan Keegan who has followed GM. "I have been saying for some time that this thing was dead on arrival and we were just waiting for the doctor to pronounce it dead. Now that's happened."
GM, which has lost $82 billion in the past four years and has received $19.4 billion in government funding since the beginning of this year, has been struggling to cut costs and reduce debt to continue to receive more government aid.
The company said on Friday it expected to need another $7.6 billion from the U.S Treasury after June 1.
Bondholders have balked at forgiving their debt in exchange for a 10 percent stake in a restructured company.
"The bondholders are not interested at all," one of the sources said. "There is a feeling of resignation in the community. They'd rather fight it out in bankruptcy court than do anything at this point."
As various deadlines near for the automaker, officials at the UAW will gather to hear how many U.S. factory jobs GM will cut as part of its restructuring.
Union officials representing 54,000 GM workers are scheduled to meet to prepare for a quick ratification vote on a cost-cutting labor deal negotiated last week. The union aims to complete those votes by Thursday.
Approval of the contract, which would change payment terms on $20 billion owed to a UAW trust fund, represents one of the hurdles for GM to clear before the June 1 deadline set by the Obama administration.
A person familiar with Obama administration thinking on the matter said the administration was continuing to engage with bondholders to reach agreement.
In an interview broadcast over the weekend, Obama said he hoped GM and Chrysler would emerge from restructuring "leaner, meaner, more competitive."
"Ultimately, I think that GM is going to be a strong company," he said.