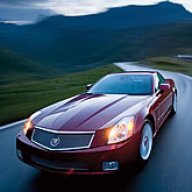 Seasoned Member
Staff member
Site Administrator
Joined

Oct 7, 2006
Messages

5,451
Location
My XLR/V(s)

Not yet!
GM finance arm seeks bailout
GMAC seeks capital infusion from Treasury as it files to become bank holding company.

By Chris Isidore, CNNMoney.com senior writer
November 20, 2008: 8:13 AM ET
NEW YORK (CNNMoney.com) -- GMAC Financial Services announced Thursday that it is seeking a capital infusion from the government and trying to access the $700 billion set aside for a bailout of banks that its parent General Motors has so far been denied.
GMAC also announced that it has submitted an application to the Federal Reserve to become a bank holding company. So far Treasury has invested $158.5 billion under the Troubled Asset Relief Program in 23 banks in an effort to stabilize the nation's financial sector.
GMAC did not announce how much money it it seeking. But spokeswoman Toni Simonetti said the money received will remain with GMAC for its business operations and not be passed along to GM (GM, Fortune 500).
The CEOs of GM, Ford Motor (F, Fortune 500) and Chrysler LLC spent two days on Capitol Hill this week seeking $25 billion in loans from TARP to solve a looming cash crisis that could lead to bankruptcy filings for GM and Chrysler later this year or early next year.
So far Treasury and the Bush administration have opposed allowing the automakers to tap into TARP, despite a push from Democratic leaders in the House and Senate. The administration and some top congressional Republicans said they are open to making other federal funds available to the automakers.
Making TARP funds available to GMAC could give a lift to General Motors by making credit more available for potential car buyers and dealers.
General Motors sales plunged 45% in October, greatly because of tight credit for buyers. GMAC announced its lack of capital was forcing it to only make loans to buyers who had credit scores of 700 or greater.
"This should allow us to provide greater access to credit for our customers," said Simonetti.
GMAC is 49% owned by General Motors, and 51% owned by private equity firm Ceberus Capital Management, which bought the stake last year in a effort to unburden GMAC from problems raising cash caused when General Motors debt was rated at junk bond status.
But GMAC's own problems became apparent in summer 2007, before the Cerberus deal was announced. It was once one of the nation's largest subprime mortgage lenders. And the decline in the resale value of auto prices, especially SUVs, has hurt the residual values of the leased vehicles it owned.