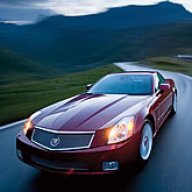 Seasoned Member
Staff member
Site Administrator
Joined

Oct 7, 2006
Messages

5,449
Location
My XLR/V(s)

Not yet!
GM pushes faster plan to cut U.S. dealers: sources
Thu Apr 16, 2009 12:11am ED
By Kevin Krolicki, David Bailey and Soyoung Kim
DETROIT (Reuters)
- General Motors Corp has told U.S. dealers it is accelerating its timetable for closing about 1,700 dealerships as it rushes to meet a June 1 deadline to restructure under U.S. government oversight, people with knowledge of the discussions said.
In a series of meetings with key dealers including representatives of the National Automobile Dealers Association, GM executives also said about 200 dealerships had closed in the first quarter, according to people briefed on those talks.
The sources asked not to be named because of the sensitive nature of GM's discussions with its cash-strapped dealers.
Dealer representatives met on Tuesday in Detroit with GM Chief Executive Fritz Henderson and on Wednesday with GM sales chief Mark LaNeve, the sources said.
A GM spokesman confirmed that the meetings had taken place but declined to comment on the closed-door discussions.
Separately, Chrysler LLC executives, including sales chief Jim Press, held a conference call for dealers on Tuesday and met with key dealers on Wednesday, sources said.
"The message was that all the balls are in the air, but they were committed to trying to reach a deal with Fiat," one Chrysler dealer who participated in the briefing said.
Chrysler could not be immediately reached for comment.
Both embattled automakers were meeting with dealers, with just weeks remaining to hammer out new concessionary deals with creditors and their major union under the threat of a government-sponsored bankruptcy.
Chrysler has until the end of April to conclude a deal with Italy's Fiat SpA and win other needed concessions. GM has been given until June 1 to attempt its own out-of-court restructuring by U.S. officials.
GM dealers who met with executives in Detroit this week were told that the automaker has several interested potential investors in its troubled Hummer SUV brand and expected to have an offer that would keep the brand running, one of the people familiar with the discussions said.
GM's Henderson had said in late March that a decision on Hummer could come within weeks. Henderson took over as CEO when the government ousted Rick Wagoner amid criticism he had moved too slowly on the automaker's restructuring.
HOT BUTTON ISSUE
The issue of how many U.S. dealerships GM can support has been one of the hot-button issues for U.S. officials as they drive GM toward a stepped-up restructuring that many observers have now concluded will include a bankruptcy filing.
GM ended 2008 with over 6,200 dealers in the United States and had presented a plan to the U.S. autos task force, run by former investment banker Steve Rattner, that would have cut that by about 25 percent to near 4,100 over the next five years as dealers shut down or merged.
The task force rejected GM's dealer consolidation plan as one element of a turnaround that officials said did not go far enough or move fast enough.
Since delivering that verdict on GM's plan late last month, the autos task force has told the automaker to go to work on an expedited dealer consolidation plan that would not rely on attrition alone, people briefed on those discussions said.
As a result, GM officials have told dealers that they would identify underperforming locations and could move to terminate franchise agreements by June 1, a dealer who had received such a notice said on Wednesday.
GM is counting on the spin-off or closure of its Saturn and Hummer brands -- combined with dealership closures because of declining business conditions and tight credit -- to deliver about half of its targeted cuts, according to the dealer.
For the remainder, GM is preparing to terminate franchise agreements without the kind of payouts that it made when it shut down its Oldsmobile division and closed some 2,800 dealerships. That process cost GM more than $1 billion.
Representatives of U.S. auto dealers, including the NADA trade group, have met at least four times with members of the U.S. autos task force since last month, including discussions of the financing pressure on both dealers and car shoppers, the sources said.
(Reporting by Kevin Krolicki, David Bailey and Soyoung Kim; Additional reporting by Poornima Gupta; Editing by Richard Chang)