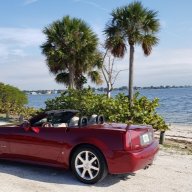 Joined

Feb 14, 2021
Messages

30
Location
My XLR/V(s)

2006 Cadillac XLR - Base
Hello to all the XLR owners out there in our limited world, this may be helpful if someone experiences the same issue that I just had.
This morning I pulled Fred (paint color infra red) out of the garage and the drivers inside door switch would not work. I tried the passenger side from the inside and it worked fine.
Hmmmm, WTF?
After some digging around online I only came up with people replacing the door switch and or door latch for the c6 corvette, there's almost no info on the XLR.
The corvette door switch looks easy enough to replace compared to our XLR's. Eventually I came across a blog where someone indicated that both inside door switches were not working intermittently and it was recommended to change the key fob battery as it sends the signal to the computer with much technical jargon explaining just what happens.
I thought what the heck, changed the key fob battery (2032) and it worked. Wait ... WHAAAAAAT?
Needless to say I was VERY Very relieved, I thought I was going to have to pull the trim panel off just to replace the door switch, or replace the latch which I was not looking forward too.
So if you are having the same issue and made it this far, just replace the key fob battery, I would have never guessed that would be causing this issue. Keep a spare in the side pocket, you never know what else it controls.
On a side note, about a month ago, I took both outside door switches off, took them apart and cleaned them as moisture and humidity starts to degrade the contacts and could be sluggish trying to open, it can be done vs replacing them, also cleaned them up on the outside when done, reinstalled and now they look and work like new.
I hope this helps someone.
Be careful out there and keep smiling.