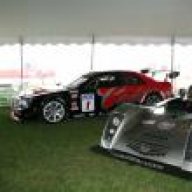 Joined

Oct 16, 2008
Messages

3,797
Location
Document ID: 2048882
#PIC4742: Front Tonneau Linkage Covers Missing In Rear Compartment - keywords appearance compartment cover curtain shade trim trunk - (Jan 15, 2008)
Subject:
Front Tonneau Linkage Covers Missing in Rear Compartment
​
Models:
2007-2008 Cadillac XLR and V-Series
​
The following diagnosis might be helpful if the vehicle exhibits the symptom(s) described in this PI.
Condition/Concern
:
​
Some customers may comment that the curtain used in the rear compartment to cover the retractable roof's Front Tonneau linkage is missing. Typically this would be a returning XLR customer that has now purchased/leased a 2007 or newer model XLR. This curtain has been eliminated by engineering. This curtain was used for appearance only and had no other functional design intent.
Recommendation/Instructions
:
​
This is normal appearance of the XLR's rear compartment. This curtain required special mounting brackets that were part of the roof's linkage to secure it in place. The curtain and mounting brackets cannot be ordered separately. Do not try to order or install these parts for any vehicle that was not originally equipped with this curtain.
Please follow this diagnostic or repair process thoroughly and complete each step. If the condition exhibited is resolved without completing every step, the remaining steps do not need to be performed.
GM bulletins are intended for use by professional technicians, NOT a "do-it-yourselfer". They are written to inform these technicians of conditions that may occur on some vehicles, or to provide information that could assist in the proper service of a vehicle. Properly trained technicians have the equipment, tools, safety instructions, and know-how to do a job properly and safely. If a condition is described, DO NOT assume that the bulletin applies to your vehicle, or that your vehicle will have that condition. See your GM dealer for information on whether your vehicle may benefit from the information.​
WE SUPPORT VOLUNTARY TECHNICIAN CERTIFICATION​
© 2009 General Motors Corporation. All rights reserved.