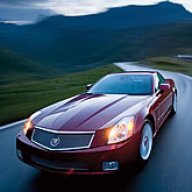 Seasoned Member
Staff member
Site Administrator
Joined

Oct 7, 2006
Messages

5,451
Location
My XLR/V(s)

Not yet!
More GM workers take buyouts
Plant says it's looking into possibility of calling some workers back

By JENNA MINK, The Daily News, jmink@bgdailynews.com/783-3246
Friday, March 27, 2009 11:46 AM CDT
More workers will soon be absent from the General Motors Bowling Green Assembly Plant after 68 local employees accepted a company buyout package, including local UAW president Eldon Renaud.
Workers who took the buyout have until April 1 to change their minds.
"I've got my years in, and like I've always told everyone, something in your head tells you when it's time," said Renaud, who has worked at GM since 1968.
Still, Renaud might yet turn down the package because, even if he retires, he plans to run for president again, and "I may feel more a part of it if I'm still (working)," he said.
The package was offered to all workers in February as a strategy to weed out higher-paid employees and hire lower-wage workers.
About 7,500 GM employees accepted the package company-wide, which is a "good number" and will allow the company to bring laid-off employees back to work, GM spokesperson Tony Sapienza said.
But the number of those who can return depends on the individual plant's volume and demand for workers, he said.
The package will have a positive effect on local layoffs, but the local plant is still determining whether a significant number of laid-off workers will be called back to work, said Andrea Hales, communication director for the local plant.
"There is potential for employees currently laid off to be called back," she said. "But we are working through what the impact would be from the (package) on our current layoffs."
The $45,000 package includes a $25,000 car voucher and $20,000 in cash. Retirement-eligible workers could accept the package and retire, and those who were not retirement ready could take the buyout and quit.
About 90 percent of those who took the package retired, Sapienza said.
Renaud said most workers are not willing to quit a good-paying job in the midst of a deep recession. And those who decided to retire were "ready to go."
"Some people have let all this churn in their stomach for a long time, and they're ready to retire and quit the turmoil," he said.
This is the third buyout package the company has offered since 2006.
The deadline to accept the package was midnight Tuesday. Many workers took the buyout at the last minute - about half the workers accepted it a few days before deadline, Sapienza said.
At the local plant, the recent announcement of an additional five-week shutdown prompted many to take the buyout, Renaud said.
"I think that might have been the catalyst for people making the final determination," he said. "It's just hard for people to get used to (short-term layoffs) in their budgets, and the fact that they're not working - people take pride in what they do. They would rather be working anytime than be laid off."