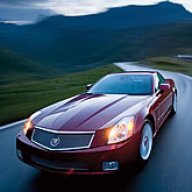 Seasoned Member
Staff member
Site Administrator
Joined

Oct 7, 2006
Messages

5,449
Location
My XLR/V(s)

Not yet!
Luxury auto owners gather at XLR event
By JUSTIN STORY, The Bowling Green Daily News, jstory@bgdailynews.com
Friday, June 6, 2008 9:34 PM CDT
A luxurious procession of gleaming Cadillacs made its way Friday from the Holiday Inn on Wilkinson Trace to the General Motors Bowling Green Corvette Plant.
The parade was the centerpiece of the Cadillac XLR Rendezvous, the second year the weekend event has been held in Bowling Green.
Organized by owners of the luxury sports car who have gathered to form the XLR Forum Club, the parade of about 90 cars wound its way to the assembly plant, where about eight of the high-end vehicles are manufactured daily.
Upon gathering at the plant, the XLR owners got together for a group picture with plant manager Paul Graham and their cars.
GM spokeswoman Andrea Hales said that an event for this particular car is unique, since passions usually run more strongly for classic cars.
"This is a singular kind of event," Hales said. "Not many cars (being produced) today have such a following."
The XLR was introduced at the 2003 Detroit Motor Show, and the 2004 models were the first to roll off the assembly line at Bowling Green.
Loved by owners for its performance and luxury, the XLR is bought by only a few thousand people in the United States each year, with prices ranging from $80,000 for the base model to $100,000 for the high-performance XLR-V.
It quickly established itself as a symbol of luxury, being awarded to Indianapolis Colts quarterback Peyton Manning for winning the Most Valuable Player award in Super Bowl XLI last year, and to New England Patriots wide receiver Deion Branch for his MVP performance in Super Bowl XXXIX in 2005.
The car also won the approval of hip-hop artist and conspicuous consumer Sean "Diddy" Combs, appearing in the opening scene of the video for his song "Come to Me."
XLR Forum Club members began the weekend in Bowling Green on Thursday, with a dinner at Olde Stone Country Club and the unveiling of the 2009 XLR.
After the parade (with police escort), the club members toured the GM plant and Corvette museum.
Today, members will display their cars in the Holiday Inn parking lot throughout the day for the Park 'n' Shine and Poker Run.
Hales said various awards would be given out today to owners for various honors, including "most miles driven" and "shiniest car."