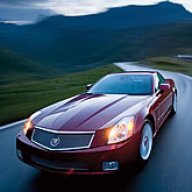 Seasoned Member
Staff member
Site Administrator
Joined

Oct 7, 2006
Messages

5,449
Location
My XLR/V(s)

Not yet!
Now is best time to snag rare cars at lower prices
Wednesday, December 10, 2008
David Phillips
Detroit News
Are you among the three million self-described American car collectors with an eye on a vintage Mustang, rare European import or historic Corvette? If there is some spare change in your pocket -- a big if these days -- now may be your chance.
Collector car prices, along with everything else collectible these days -- fine art, antiques, rare wine -- are dropping as fast as gas prices as investment markets worldwide reset.
Enthusiast favorites -- such as 1960s Pontiac GTOs, 1940 Fords and 1957 Chevys -- are commanding prices 50 percent below what they fetched several years ago, brokers and auction houses say.
In October, with the stock market doing another swan song and economic angst running high, auction giant Barrett-Jackson staged its first ever collector car sale in Las Vegas.
It seemed a no-brainer -- lots of passionate collectors, a bumper crop of newly minted overseas investors, a collection of exotic cars -- gathered in America's gambling mecca to kick some rare tires and roll the dice.
The auction house went on to sell some $29 million worth of cars and automobilia -- a respectable showing. More than 50 percent of the 1,200 bidders were first-timers. But many of the cars went for prices well below levels fetched just a few years ago.
A 1940 Ford Coupe that sold for $40,000 several years ago is today worth $22,000 to $23,000, according to CNW Marketing Research in Oregon. A 1964 Plymouth Hemi Coupe? Down 24 percent since 2006. If you bought a 1969 Chevrolet Camaro coupe a few years back, you're most likely under water on your investment by some 10 percent.
Buyers are waiting longer to close a deal, too.
The length of time required to sell a top-notch Ford Thunderbird or Corvette has doubled this year to about 11 weeks.
Buyers who bought at the market peak in recent years are simply waiting for a rebound, brokers and sellers say.
Even that rarified Ferrari is down as much as 25 to 35 percent these days, though European import prices are holding up better than American car prices.
The 200 to 300 super-rich collectors who buy and trade exotic collectibles cars are even feeling the sting of the meltdown in global markets.
Ultra high-income consumers are pulling back on purchase intentions for the first time in two decades, according to Art Spinella, head of CNW Marketing. And more than three quarters of Americans now say they own too many things and are getting tired of the clutter, CNW research shows.
GM, Chrysler and Ford -- the foundation of the U.S. collector car market -- are fighting to avoid financial collapse and put another cloud over the collector market.
A big test for the market will come with the next round of car auctions scheduled in January. RM Auctions plans to offer a 1929 Duesenberg Model J convertible coupe by Fleetwood, the only known Duesenberg to have had Fleetwood coachwork installed new, and a one-off 1929 Graham-Paige Supercharged Dual Cowl Sport Phaeton, built for the 1929 New York Auto Show.
Last year's RM auction grossed $30 million in sales and a 95 percent sales rate -- a level unlikely to be matched this year.
Barrett-Jackson plans to auction off the first production Thunderbird -- a 1955 Raven Black T-Bird produced by Ford Motor Co. on Sept. 9, 1954.
But for its big January auction, Barrett-Jackson has also lowered its sights to attract more first-time bidders. You'll see more cars priced as low as $10,000 than in recent years, said Barrett-Jackson President Steve Davis.
But take heart, collectors.
Should GM, Ford or Chrysler merge, default or drop a brand down the road, the Corvette, Thunderbird or Challenger in your dreams may be worth even more.
Remember what happened to Tucker.
David Phillips is a freelance writer and contributor to Autos Insider. You can reach him at
dphillips@detnews.com
.