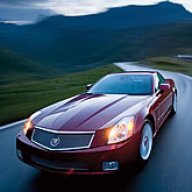 Seasoned Member
Staff member
Site Administrator
Joined

Oct 7, 2006
Messages

5,449
Location
My XLR/V(s)

Not yet!
Official from GM talks up BG plant
VP of quality says automaker in midst of comeback, local site a significant part of effort
By AMEERAH CETAWAYO, The BG Daily News, acetawayo@bgdailynews.com/783-3246
Thursday, October 11, 2007 12:11 PM CDT
A top General Motors official said at a luncheon in Bowling Green Wednesday that despite the carmaker's recovery from $12 billion in losses over the past two years, GM still faces a challenge in the public eye.
"I still feel like we have a perceptual problem in the consumer base, that our products don't meet the standard or they're not as good as Asian imports, that the issues we had 10 or 15 years ago still exist today," said Jamie Hresko, GM's vice president of quality.
His speech came the same day that the United Auto Workers union ratified a four-year national contract with the automaker. Stalled contract talks led to walkouts at several GM plants, including the Bowling Green Assembly Plant, though members of UAW Local 2164 went back to work after just two days on the picket line when they voted to accept the contract last month.
UAW Local 2164 President Eldon Renaud said he was relieved that the national contract was ratified.
"It's a sense of relief, and the job protection guarantees that we have offer more relief, and we're excited about the jobs coming here," Renaud said.
The contract sets lower pay for some workers, but puts GM's burdensome retiree health care debt into a UAW-run trust. It also promises future work for employees at U.S. plants, including bringing production of the Pontiac Solstice and Saturn Sky models to the Bowling Green Assembly Plant.
"Typically, we'll build cars with the same architecture and same size together to be competitive," Hresko said, adding that GM officials will share more details about the contract's production specifics in the next few days.
Bowling Green plant manager Wil Cooksey said it's now up to local plants throughout the country, including here, to negotiate. GM's Bowling Green Assembly Plant has about 1,100 workers, about 80 percent of whom are unionized.
"It's a known fact that after ratification of the national agreement that the next important thing we have to do in all our plants is make sure we have competitive local agreements," Cooksey said. "Our leadership here in Bowling Green - union and management - are busy at work, sitting down and talking about these very issues that will make us competitive."
Yesterday's luncheon, sponsored the Bowling Green Area Chamber of Commerce, offered insight into how the Bowling Green Assembly Plant plays into the future of GM.
"Our retail sales have been improving and our market share has been flat," Hresko said. "Our new products are selling well, and I think we're starting to gain leverage."
He added that GM isn't shying away from tougher emissions and mileage standards, but is poised to be an industry leader with new technologies.
"We can get it done with solutions we have today, we just need the infrastructure to support that," Hresko said. "In the next couple of weeks, we are going to put 100 vehicles on the road that are hydrogen fuel cell vehicles, that burn no gasoline. What's interesting is that they produce no emissions either."
The 2008 launches of the Cadillac CTS and Buick Enclave, and upcoming launches of the Pontiac G8 from Holden, Australia, the Chevrolet Astro from Belgium and the Chevy Malibu, will be "game-changers," Hresko said.
GM has been able to reduce warranty claims by 40 percent, he added, and is now offering a five-year, 100,000-mile transferable warranty on certain vehicles to show customers it is standing behind its product.
Bill Parsons, managing director of the Global Advanced Leadership Center, which hosts the Global Automotive Conference every April, said GM is working diligently in terms of new technologies to reduce America's dependence on foreign oil in the face of more stringent mileage standards.
"I was especially impressed in terms of the focus from the global standpoint, in terms of partnerships in all these other countries and how they can come back to benefit not only those countries, but (also) North America," Parsons said.
Hresko said he is proud of what Bowling Green's plant has been able to accomplish, as it institutionalized key processes that helped the Chevrolet Corvette and Cadillac XLR win awards.

"When you can operate the way we operate Bowling Green and produce the level of quality in a high-performance vehicle like (the Corvette) - a very complex vehicle at that - it says a lot about the people who make it, who really deserve the credit," he said. "But it also signifies the amount of change that has gone in the plant under (Cooksey's) direction. We look forward to aggressively moving forward further."