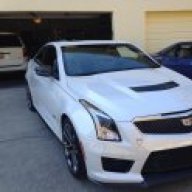 Joined

Jul 7, 2017
Messages

156
Location
My XLR/V(s)

2016 ATS-V Coupe; 2004 XLR
Hey y'all-
I'm a newbie member of about 2 weeks and my story was that my fiancée and I getting married on Sept. 2, 2017 in Whippany, NJ and I decided to trade in my 2001 XKR Jaguar convertible for her Xenon Blue 2004 XLR.
After getting the car, we both decided she liked the Shale Interior more the than the Black so I will parting out the interior as begin to replace most of the pieces with Shale. My hunt is on and I and the dealer who is actually doing the work for me will be meeting on Tuesday morning with the interior man and go over all of it...what parts can be ordered new and what parts will we have to refinish or re-color, etc. I should have decent idea of what all will be available in Ebony/Black.
So far, I do some idea to give anybody a head start if they happen to be looking:
1. Gear shift knob w/Black leather.
2. Top Dash panel with HUD display.
3. Rt door panel. Lt not sure yet but I think so....TBD
4. Carpet-black.
5. Lt and Rt Hoops black.
6. NOT the steering wheel-can't find a new Shale one so far so the shop will have it recovered for me.
7. Lt. and Rt. A-Pillars-black.
8. Center Top Windshield panel between two A-Pillars-black.
9. Lt. and Rt. Seat covers, top and bottom-black.
10. 1 set of Ebony carpets with Cadillac crest-used but in decent condition.
11. 1 set of new Lloyd custom carpets in Gray and NEVER put in car once; right after they were delv'd, my finance decided Shale was more her color-Grrrrrrrrrrrrrrrrr!!! (LOL). They also have the Cadillac Crest with XLR letters just beneath the crest. They cost new $144.90; Will sell for $100 + Shipping. I have these mats in my possession since July 10th.
12. Lt and Rt. Black seat belts, complete.
*All prices except for Item #11 will be posted ASAP but sometime this week. I'm going to try to put prices NLT 7/26,27/2017, by Wednesday or Thursday.
**All items are OEM-, except maybe for item # 10(???) and have the original mileage 36,200 miles as on the car and all are in good to very good condition.
Please feel to contact me by text at 727-688-8739 or by personal email at well at:
rivieman5215@gmail.com
Hope these parts can be useful to someone....
Sal
Last edited: