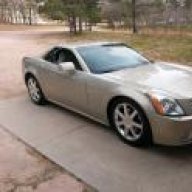 Joined

Sep 2, 2013
Messages

563
Location
My XLR/V(s)

2006 Gold Mist XLR & 79' Eldorado Convert
Took Goldie out for a run and up through the mountains yesterday with my wife and T.J. to see the Aspens In Color now that Fall has arrived in The Rockies. Beautiful day, mid 70's. Colors were amazing. Seas of yellow Aspens against dark green Evergreen Forests. Top down cruising.
Then on the way back she threw a code.
Check engine light came on. Scanned it when I got home and code P104. "System too lean". So now the diagnostics start. Check for vacuum leaks manifold and other fittings and any hoses. Check to make sure intake manifold bolts are tight. Before the light came on we were sitting at a light idling and I notice the engine started to stumble a bit? Then the light came on. Yet it smoothed out after driving a bit more? Temporarily plugged injector(s)? So I will also put my fuel pressure tester on the Schrader Valve and see what PSI I have? 02 Sensor(s)? Will run good fuel injector cleaner through her. Remove and clean The MAS. Before tackling the 02 Sensors, I will rule everything else out first. Also check out my gas cap to make sure it is sealing? I do not run an oiled K&N Air Filter, but know that for those of you that do, the oil 'may' coat The MAS also causing this code. --- With a few vehicles in possession, it is "always' something it seems with one of them, or two or more at the same time. Have never figured out how or why, something will break all by itself? Just part of the deal I guess
.