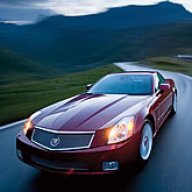 Seasoned Member
Staff member
Site Administrator
Joined

Oct 7, 2006
Messages

5,442
Location
My XLR/V(s)

Not yet!
The numbers are in: It doesn't look good for sports cars

Larry Printz, The Virginian-Pilot
Published Wednesday, December 31, 2008

Is the sports car as we know it about to die? The question comes up every few years, but as the industry slumps, there's cause for concern.

In the Dec. 15 issue of Automotive News, I looked at the chart for U.S. light-vehicle inventory, which measures how many sale-days worth of vehicles are available for purchase nationwide. A 60-day supply is considered normal.

I won't bore you with all of the stats, save this one: As of Dec. 1, some of the largest supplies are sports cars.

Check the numbers: Ford Mustang, 201 days; Chevrolet Corvette, 233 days; Mazda Miata/MX-5, 245 days; Saturn Sky, 272 days; Honda S2000, 278 days; Cadillac XLR, 306 days; and the Mitsubishi Eclipse Spyder, 332 days. That last number is a big one - almost a year's worth of roadsters waiting for buyers.

How could that be?

Consider that decades ago, when sports cars such as the Porsche 356 and Chevrolet Corvette first ventured onto the freeways of our hearts, mainstream sedans handled corners with the finesse of a desk chair.

By contrast, even the most modest modern sedan handles better than a sports cars did decades ago. Heck, some modern sedans maneuver as well as sports cars - yet offer room for four and a trunk that holds more than a toothbrush and hair gel.

Through the end of November, Madza had sold 10,678 Miatas and 102,093 of their Mazda3, a car that's just as sporty and more practical.

Now ponder this: as automakers cut models to save money, which ones do you suppose will be the first to go?

Take three guesses; the first two don't count.