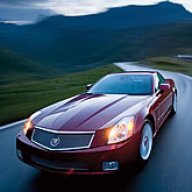 Seasoned Member
Staff member
Site Administrator
Joined

Oct 7, 2006
Messages

5,442
Location
My XLR/V(s)

Not yet!
UAW members vote 74% in favor of new GM contract
Union says GM will save $1.2 billion to $1.3 billion a year

David Barkholz
and Chrissie Thompson
Automotive News
May 29, 2009 - 1:35 pm ET
UPDATED: 5/29/09 2:37 p.m. ET

DETROIT
-- General Motors hourly workers represented by the UAW overwhelming approved contract concessions this week in advance of GM's probable bankruptcy filing.
The GM rank-and-file voted 74 percent in favor of the contract, the UAW announced today. GM has about 54,000 UAW-represented workers.
"There's been a lot of people who have been in a very anxious mode, if you will, for due cause," UAW President Ron Gettelfinger said at a news conference today. But "we are satisfied that we've done the right thing here to give us a lifeline into the future."
The agreement, which takes effect at 4 p.m. ET, calls for a suspension of bonuses and cost-of-living adjustments. It also provides greater GM flexibility for hiring lower-cost entry-level workers and it permits GM to use equity instead of cash to fund most of a $20 billion hourly retiree health trust.
Gettelfinger said the new contract requires GM to pay about 25 percent of its original $57 billion retiree health care obligation. That includes transfer of an internal GM Voluntary Employee's Beneficiary Association, or VEBA, to the UAW-administered trust of $9.4 billion.
When the 2007 VEBA deal was negotiated, the return to the UAW VEBA was about 60 percent. Gettelfinger said the changes amount to a huge sacrifice that will cause lost benefits to retirees.
Total contract savings
Overall, GM is expected to save $1.2 billion to $1.3 billion a year because of the concessions, said Cal Rapson, UAW GM vice president.
"We very much appreciate the support of our employees and retirees," said Diana Tremblay, vice president of GM labor relations, in a statement. "Their shared sacrifices will enable GM to become a stronger, more viable company that will continue to deliver world-class cars and trucks."
For the concessions, GM agreed to reuse an assembly plant and stamping plant scheduled for closure for production of a small or compact car. That undisclosed vehicle was to have been built overseas.
The agreement to build a small car in the U.S. will put a stop to plans to import a car from China and slow any imports from South Korea, Gettelfinger said.
"There's not many bright spots in this agreement, except for the production of a new small car in the U.S.," Gettelfinger said. GM's decision to build a small car in the U.S. will slow imports from other countries, he said.
"There's absolutely no reason for B cars not to be produced in this country," he said. "We intend for all of those companies to build a small car in this country before this is said and done."
Deep cuts still expected
Despite that provision, GM still intends to close more than a dozen plants and idle some 21,000 UAW workers by 2010. That plant closure announcement could come as early as next week when GM is expected to follow Chrysler LLC into Chapter 11 bankruptcy protection.
Gettelfinger said he hoped additional GM job cuts would not reach the 21,000 that the automaker projected in February. He said the new small-car plant and a return to a more normal vehicle selling rate could reduce that number.
Rapson said GM would not shut all its production plants if it goes into bankruptcy, unlike Chrysler. Gettelfinger added that the industry has seen how much damage the Chrysler shutdown has done to suppliers. And GM has a number of hot-selling vehciles that it needs to keep producing.
The concessions in this agreement should stop critics from blaming the UAW for GM's problems, Gettelfinger said.
"You're going to have to look somewhere else," Gettelfinger said. "Perhaps you can even look at the management of the companies."