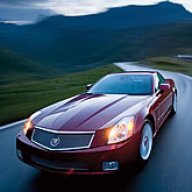 Seasoned Member
Staff member
Site Administrator
Joined

Oct 7, 2006
Messages

5,449
Location
My XLR/V(s)

Not yet!
UAW Seeks GM Board Seat After Concessions, Local Says
By Greg Bensinger

Dec. 8 (Bloomberg)
-- The United Auto Workers union wants a seat on General Motors Corp.'s board in exchange for money- saving concessions to help U.S. carmakers win federal aid, a local president said.
The union "seeks an equity stake in the company, most likely in the form of a seat on the board of directors," President Marc McQuillen said in a posting on Local 2404's Web site. A UAW spokesman, Roger Kerson, said he didn't have an immediate comment. A GM spokeswoman, Sherrie Childers Arb, also had no immediate comment.
UAW leaders agreed at a Dec. 3 emergency meeting to suspend a program that pays laid-off workers and to delay contributions to a union-run trust fund, bolstering the chief executive officers of GM, Ford Motor Co. and Chrysler LLC when they urged Congress a day later to approve as much as $34 billion in loans.
McQuillen, who represents about 100 union members at a parts-distribution center in Charlotte, North Carolina, said the UAW will allow automakers to put off payments to the fund for retirees' medical bills by two years to 2012. The UAW hasn't disclosed a target date.
GM's board has 14 members including Chief Executive Officer Rick Wagoner, who is the chairman, according to the company's Web site.
Union Announcement
McQuillen's comments elaborated on UAW President Ron Gettelfinger's announcement last week that the union was revising the contribution schedule for the retiree-health funds known as Voluntary Employee Beneficiary Associations. The VEBAs were agreed to under the 2007 labor contract.
The union will negotiate with GM, Ford and Chrysler over interest payments for the delay, Gettelfinger said. The first contributions were due in January 2010, and the postponement would need approval by a federal judge.
The UAW also said last week it had agreed to suspend the so-called jobs banks, which enabled members to receive 95 percent of their take-home pay while laid off for extended periods. There are about 2,800 Ford and GM workers in the jobs banks.
House Financial Services Committee Chairman Barney Frank said Congress and the Bush administration have reached an accord on an automaker rescue plan that will likely be passed and signed into law this week.
To contact the reporter on this story: Greg Bensinger in New York at
gbensinger1@bloomberg.net
Last Updated: December 8, 2008 12:35 EST