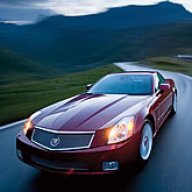 Seasoned Member
Staff member
Site Administrator
Joined

Oct 7, 2006
Messages

5,451
Location
My XLR/V(s)

Not yet!
GM Applying More Patented Technologies to Cars and Trucks
Leads in auto and transportation patents for 10th consecutive quarter
2014-01-10
DETROIT
– A patent for an industry-first aluminum
welding process
used on the
2014 Corvette Stingray
is one example of how General Motors is driving more of its inventions into making and equipping cars and trucks on the road.
Another industry first – the use of a lightweight shape memory alloy wire instead of a heavier motorized actuator to open and close the Corvette Stingray's hatch vent – is another reason General Motors continued to lead the auto and transportation industries in patents granted for the 10[SUP]th[/SUP] consecutive quarter for July to September, according to
The Patent Board
.
According to The Patent Board, GM received 1,672 U.S. patents in 2013 applied to global product engineering, powertrain engineering, manufacturing, research and development and OnStar organizations. That's 176 more than second place Toyota and more than twice as many as Ford.
"Breakthrough technologies like aluminum welding and shape memory alloys show how GM is leveraging its intellectual property for real-world applications," said Jon Lauckner, GM chief technology officer, vice president of Global R&D and president of GM Ventures. "Commercializing patented inventions as game-changing vehicle features and manufacturing processes reflects GM's commitment to innovation."
Aluminum welding enables increased use of aluminum to shave pounds, which helps to improve fuel economy and driving performance.
The Corvette Stingray uses 354 spot-welds that eliminate nearly two pounds of rivets from body parts. The process's multi-ring domed electrode head conducts an electrical current to create intense heat that disrupts the oxide on sheet, extruded and cast aluminum surfaces, enabling a stronger weld.
The GM-patented lightweight shape memory alloy wire replaces a heavier motorized actuator to open and close the hatch vent that releases air from the trunk. This allows the trunk lid to close more easily than on the previous models where trapped air could make the lid harder to close.
The Patent Board also named GM No. 1 in Technology Strength™, a measure indicating overall strength of the company's patent portfolio holdings with a combined measure of quality and quantity.
The Patent Board is the leading independent provider of best practices research tools and metrics for patent analysis and intellectual property investment. It tracks and analyzes innovation and patents across 17 industries on a global basis.
General Motors Co.
(NYSE:GM, TSX: GMM) and its partners produce vehicles in 30 countries, and the company has leadership positions in the world's largest and fastest-growing automotive markets. GM, its subsidiaries and joint venture entities sell vehicles under the Chevrolet, Cadillac, Baojun, Buick, GMC, Holden, Jiefang, Opel, Vauxhall and Wuling brands. More information on the company and its subsidiaries, including OnStar, a global leader in vehicle safety, security and information services, can be found at
http://www.gm.com