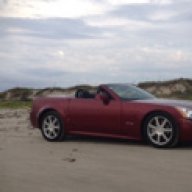 Joined

Jun 10, 2016
Messages

107
Location
My XLR/V(s)

2006 Base Infrared
Reunion Petition

What matters is making enough noise to make that 1 person high enough at GM decide losing a couple thousand dollars on headlights is worth squashing bad PR. It's not about making money on the parts, it's about PR, good or bad.

Mercedes gets it.
BMW gets it.
GM, not so much. Yet.[/QUOTE]

I just had an idea that goes along with this: There's going to be a pretty good bunch of us at this 15 year reunion. I assume it will get some publicity. Couldn't we get some sort of petition, signed by all of the attendees, to GM to help us out on this replacement part problem? At least release some of their molds or copyrights so third parties could make them? Also, if any TV or newspaper coverage is available, we could make a point of bringing up the dearth of parts, and GM's lack of support for some very expensive vehicles.