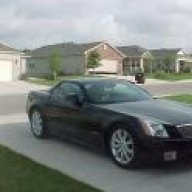 Joined

Jun 5, 2009
Messages

32
Location
My XLR/V(s)

2008 Black XLR
Car: 2008 XLR.
Distance: From San Antonio 1780 miles From Granbury Texas (Fort Worth) 1750 miles.
This past summer has been a bit crazy for me, Started with many doctors visits. In September I had Prostate surgery, I also was informed that my 88-year-old mother was having dementia problems. She lives in Sacramento. Not knowing how secure my internal plumbing was, I decided to drive out to help. This was the best wringing out of a car that I have ever done. The following are my findings:
On the first trip I went west on HW 10 through El Passo, about 550 miles. Speed limit west of San Antonio goes to 80 MPH just past Kerrville. My cruse control failed almost immediately so drove this trip manually. I was able to get 29 mpg average. I went on to Blythe Ca. the first day. This was about 1100 miles, and yes I was fairly comfortable. I compare this part of the trip with a drive from Granbury Texas (Fort Worth) to Milwaukee Wi. About 1000 miles, that I drove 2 times a year in a C-5 Corvette convertible. The XLR was by far a better long-range cruiser than the Corvette. I was able to get 31 mpg with the Corvette using cruse control. I was also able to pack more stuff into the Corvette. I could get 2 golf bags in the trunk with the top down. The XLR? Not so much. However I arrived in much better shape driving the XLR.
Went through Los Angles on the second day, As suspected traffic was very heavy, took hw 5 to Sacramento, Good road all went well.
On the way home I turned east at Bakersfield, past Edwards AFB. And stopped in Phoenix. The car adjusted well to my driving habits. I am 6' 3" tall and weigh 250 lbs. I was able to adjust the seat and steering wheel for a comfortable ride. By moving the seat bottom forward and reclining the seat back a bit, I fit the car fairly well.
3 weeks later I drove out again, this time from Fort Worth. I took a northern rout through New Mexico, using HW 40. I had repaired the cruse control so the drive went very well. I do not like the radar function on the cruse control; the breaking action was triggered by certain bridge overpasses and some other objects such as guardrails (on both sides of the car). If I knew how, I would turn the radar off. It seams to create more problems than it solves.
I was able to get 31 mpg this trip (desert highways) using the cruse control. I stopped in Flag Staff AZ on the way out. The car handled very well at higher altitude and was very responsive. I took hw 40/58 to hw 5 on the second day and went north without issue.
On the way home I went east on HW 40/58 to Needles and turned south on hw 95 to hw 10. I took the Gila Bend bypass around Phoenix and stopped there the first day. I drove back to San Antonio arriving around 9:30 pm local time on the second day.
I was very impressed with the road-ability of the XLR. It has a smoother ride; better overall economy and just a better feel than the Corvette. I was also able to use mid grade gas on the trip. I suppose could have used regular but I felt better using mid grade. My only major complaint is trunk space. 900 miles a day is not something I would like to do often but it is nice to know that the XLR can do it.