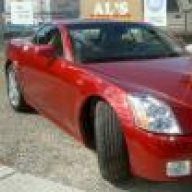 Joined

Oct 17, 2008
Messages

3,648
Location
My XLR/V(s)

2007 Red Jewel XLR
A Blonde, on her wedding night, got undressed and into bed waiting for her new husband to join her.
After about 15 minutes of waiting she raised up to see what was taking her husband so long to join her. She saw her husband sitting on the chair in the hotel room.
She asked, "What are you doing? Aren't you going to join me and make love to me?"
Her husband replied, "It's lent."
To which the Blonde said, Well, that's about the silliest thing I've ever heard... who on earth did you lend it to?"