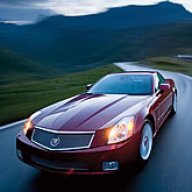 Seasoned Member
Staff member
Site Administrator
Joined

Oct 7, 2006
Messages

5,449
Location
My XLR/V(s)

Not yet!
Corvette plant employees hoping for best, bracing for worst


By JENNA MINK, The Daily News,

jmink@bgdailynews.com
Sunday, November 23, 2008 12:14 AM CST
Joe Imel/Daily News
Dave Peters, who has worked for GM for more than a decade, says he's confident that the company will overcome its economic struggles.
Related Video:
http://vettetube.com/view_video.php?viewkey=a2b43b4c720507cec072
Natasha Daniel is counting the days.
"We stay glued to CNN," she said, "just holding on."
Daniel, a 10-year assembly worker at the Bowling Green General Motors Assembly Plant, recently learned that she and her husband, who also works for GM, will be laid off in January - part of a companywide cutback as GM struggles to survive through the end of the year.
"It's our main source of income," she said, adding that her family hopes the layoffs will be temporary. "It doesn't sound too good. We just have to keep our fingers crossed."
She's just one of hundreds of local workers struggling to stay optimistic through bouts of layoffs, plant closures and news that their employer is on the brink of collapse.
On Thursday afternoon, work continued as usual at the local assembly plant. Employees stood by the assembly line, tinkering with Corvette parts as they moved down the line. But, for some, a cloud seemed to be hanging overhead.
"We ain't going to have nothing," said Lorrain Morgan, a material support leader who has worked for GM for 13 years. "What are we going to do? It's scary, it's really scary."
Morgan landed a job at GM when her father, who also worked for the company, brought her a job application - now, Morgan is going back to school to receive her master's degree, and her daughter also attends college.
"I don't even know how I'm going to pay for my daughter's tuition (if she gets laid off)," she said. "I'm the only source of income. I'm a single parent."
Jody Stevenson has been through this before - he transferred to the Bowling Green plant about five years ago after the plant he worked at in Alabama closed.
"Your morale's going to be down," said Stevenson, who has worked for GM for about 10 years. "You wake up every day wondering if you're going to have a job."
Don Jenkins also landed a job at the Bowling Green plant after the Alabama plant shut down.
"I'm very concerned. It's our livelihood," said Jenkins, a 24-year GM worker. "That's why I came to Kentucky, so I can work."
Jenkins said his co-workers share his frustrations.
"There's some anger; there's some sadness," he said. "A little bit of both."
But other workers, like Dave Peters, are confident the industry will make a comeback.
"First, as a Christian, I don't fear the future," he said. "As an American, I'm optimistic."
Peters works as a robot attendant in the paint shop at the local plant. He has worked for GM for about 11 years, and he enjoys watching visitors as they tour the plant.
"My favorite part is seeing customers come through here on a daily basis and seeing, for many, a dream being built," he said.
Peters said he does not have a backup plan in case he loses his job; he's optimistic the government will help the auto industry get back on its feet.
"I believe Congress will see the reason (for an auto industry loan), and so again, most of us here are optimistic it will happen," he said.
Like Peters, Stevenson has confidence that GM will survive and plans to stick with the company.
"My backup plan is GM," he said. "I'm going to put my faith in GM and ride it."
Deonca Shields has worked for GM since she graduated college about six years ago. Because she lacks seniority, Shields is afraid she might be next on the layoff list, and she has her resume ready in case she needs to find another job.
"It's gloomy; you can see it on everyone's face," she said. "No one is walking with their heads held high."
Daniel said she and her husband have discussed going back to school, but in the meantime they might look for alternative work, such as restaurant jobs.
"It's going to be a hard market to get into," she said. "Everybody else is in the same boat ... we've told everybody that it's going to be a little less for Christmas this year."
Morgan simply plans to come to work every day, hoping she is not the next worker laid off.
"I might be one of them, I don't know," she said. "I just look at it like I'm going to take it a day at a time."