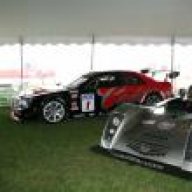 Joined

Oct 16, 2008
Messages

3,797
Location
Corvette Racing Aims for Sixth Le Mans Title in Final GT1 Race
24 Hours of Le Mans to Mark the End of GT1 Era for Corvette Racing
LE MANS, France, June 5, 2009 – Corvette Racing has unfinished business at the 24 Hours of Le Mans. The most successful team in American Le Mans Series history has won its class five times in the classic 24-hour French endurance race (2001-02, 2004-06), establishing Corvette as a global performance icon. Now after runner-up finishes in Le Mans in 2007 and 2008, Corvette Racing is focused on winning its sixth Le Mans title at the immense Circuit des 24 Heures on June 13-14.
This year's edition of the world's most prestigious sports car race has special significance for Corvette Racing. The team's Corvette C6.Rs will make their final run in the GT1 category before Corvette Racing begins its transition to a global GT class in 2010 that is chiefly based on current GT2 regulations.
"From Corvette Racing's inception, the 24 Hours of Le Mans has always been our objective," said program manager Doug Fehan. "GM leadership shared that vision, and Le Mans became the cornerstone of our program for two important reasons.
"First, Corvette is the tip of GM's technological spear, so racing production-based Corvettes was the most expedient way to accelerate the transfer of technology from racing to production," Fehan said. "Second, we knew that Corvette was going to become a global brand. If Corvette was going to compete successfully in the marketplace with Ferrari, Porsche, Aston Martin, and other prestigious marques, then we had to transform the image of Corvette in the eyes of the world. Corvette's performance credentials were already well established in North America, but we had to nurture a new respect for Corvette in the rest of the world. Le Mans provided the arena to accomplish that, and the results have far exceeded our expectations."
Le Mans: The Driver's View
The magic of Le Mans still enthralls even veteran drivers like Corvette Racing's Olivier Beretta, a five-time winner at the Circuit de La Sarthe. "Le Mans is a very special event, and everyone who has been there can understand what I mean," said the Monegasque driver. "It's difficult to put into words, the feeling that you have when you go to Le Mans – the track, the atmosphere, the history, the race itself.
"Driving in the last race of the GT1 Corvette is something very special," Beretta said. "Why? Because these cars have raced since 1999, and they have been very successful. I have been part of the Corvette Racing team since 2004, and had the opportunity to win Le Mans three times with Ollie (Gavin) and Jan (Magnussen), so I really hope to win the last race."
Oliver Gavin, who will be teamed with Beretta and Marcel Fassler in the No. 64 Compuware Corvette C6.R, agreed: "Do we have unfinished business at Le Mans? I definitely think so," said the Briton. "Le Mans had been very kind to me from 2004 to 2006 with three consecutive class victories, but you need to have luck to win there. In the last two years, we've been extremely competitive, driven smartly and had great races, but it seemed the luck just wasn't with us.
"Not only are you battling against the other cars in your class and against all of the other cars in the race, but you are battling against the track itself, the weather conditions, and the clock," Gavin explained. "It's a huge, huge event, and something you can never underestimate. Going back for the last time in GT1, we are very focused on getting that final victory and putting Corvette Racing in the history books as the last GT1 winner of this era."
Corvette Racing's Danish ace Jan Magnussen is also hoping to return to the top step of the podium at Le Mans. "It would be fantastic to finish this program with a win at Le Mans," said Magnussen, who is teamed with Johnny O'Connell and Antonio Garcia in the No. 63 Compuware Corvette C6.R. "I've been on the podium the last five years – three times as a winner, but the last two in second place. We've had excellent races, haven't made any mistakes, but somebody else was just a little bit faster. I believe this year we will have a really good shot at it."
Driver Roster
Corvette Racing's driver lineup for Le Mans adds Antonio Garcia as the third driver in the No. 63 Corvette C6.R alongside O'Connell and Magnussen. The 29-year-old Spaniard is the hottest driver in international endurance racing, with three major victories in the last year. Garcia was part of the Le Mans-winning GT1 team in 2008, and he shared the overall win in the 2009 Rolex 24 at Daytona. In March, he won the Mobil 1 Twelve Hours of Sebring in his debut with Corvette Racing.
"Antonio is awesome," O'Connell declared. "A third driver must be able to take whatever car he's given and drive it fast, and Antonio showed at Sebring that he can do that. Positive energy, or mojo, or whatever you want to call it, is important in racing. Antonio was in the winning car last year at Le Mans, and he won Daytona and Sebring this year. When a driver is winning, it's really easy to keep winning. I think Antonio is an excellent addition to Corvette Racing."
Marcel Fassler will drive the No. 64 Compuware Corvette C6.R alongside Gavin and Beretta. The Swiss racer won the 24-hour Spa race in 2007, and has honed his racing skills in the European Le Mans Series and FIA GT competition.
"Both of the new Corvette Racing drivers, Marcel and Antonio, are very quick," Beretta said. "Marcel is a great asset; he is fast, successful, very easy to get along with, and he wants exactly the same setup as Ollie and I do. He knows the Corvette C6.R very well, and he raced with us at Sebring. I hope that the three of us will have a good race at Le Mans."
O'Connell's Quest
Johnny O'Connell can make history at Le Mans by becoming the only American to score four wins in the famed race. He notched his first GT win in his Le Mans debut in 1994, and repeated with back-to-back wins in 2001-02 with Corvette Racing. The list of three-time American winners at Le Mans includes Phil Hill, Hurley Haywood, Al Holbert, Luigi Chinetti, and Dick Barbour.
"No American has stood on the top step of the podium four times at Le Mans," said O'Connell, a resident of Flowery Branch, Ga., "Every driver wants to accomplish certain things in his career, and it would be tremendous to get my fourth Le Mans win this year. Corvette Racing has all the tools to do it, and we have a great opportunity."
O'Connell recognizes the difficulty he faces. "Le Mans is truly an intense battle," he said. "Twice we finished second there on the same lap as the winner. You replay the race in your mind a thousand times, asking yourself what could we have done differently, what could we have done better? I definitely think we've learned from those experiences. At the end of the GT1 era, we want Corvette to be in the record book with the last big win at Le Mans."
Rule Revisions
Changes in the Le Mans regulations will have an impact on Corvette Racing's pit strategy and tire management. The new rules allow only two mechanics and one air gun to be used for tire changes; previously four mechanics using two air guns were allowed to change tires simultaneously. No other work may be done during tire changes, and the equipment and used tires must be behind the line at the front of the garage before the car leaves its pits.
"The new rules mean that a four-tire change will take 25 to 30 seconds per stop, versus about 10 seconds last year," said Corvette Racing team manager Gary Pratt. "The new rules essentially dictate that you double-stint the tires, and you'd really like to do triple stints if the conditions allow. Making the wrong tire choice brings a harsh penalty – not only does the car lose time on the track, but then you face another 30-second pit stop to change them. Rain could further complicate tire selection and pit strategy.
"The pit spaces at Le Mans are small, so if there is a safety car period and everyone comes in for tires, getting in and out of the pits could be difficult," Pratt explained. "Even during routine stops, managing when the cars come in is important. For a two-car team like Corvette Racing, ideally the pit stops should be staggered so the cars come in one at a time."
Another significant rule change is the requirement to qualify and race using the same engine. Previously teams were allowed to install fresh powerplants after qualifying.
"There are six hours of practice on Wednesday night followed by four hours of qualifying on Thursday night," Pratt noted. "We'll install our race engines on Thursday, and consequently we plan to run a limited number of laps during qualifying – a few laps for shakedown and to let the drivers get acclimated, followed by qualifying runs. Fortunately Corvette Racing has years of experience at Le Mans and volumes of data, so we should be able to cope with the shortened schedule this year."
Le Mans Timetable
Practice for the world's most prestigious sports car race will take place from 6 p.m. to midnight on June 10 and qualifying from 7 p.m. to midnight on June 11. The 77th running of the 24 Hours of Le Mans is scheduled to start at 3 p.m. CET (10 a.m. EDT) on Saturday, June 13 and finish at 3 p.m. CET (10 a.m. EDT) on Sunday, June 14. SPEED will provide live television coverage in the U.S. from 8:30 a.m. to noon ET Saturday and 11 p.m. Saturday to 10 a.m. ET Sunday. Flag-to-flag coverage of the race, qualifying and practice will be available at radiolemans.com.