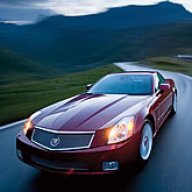 Seasoned Member
Staff member
Site Administrator
Joined

Oct 7, 2006
Messages

5,449
Location
My XLR/V(s)

Not yet!
Automakers increasingly reuse plastics and fabrics to save costs, trash
BY JEWEL GOPWANI • FREE PRESS BUSINESS WRITER • September 21, 2008
Empty water bottles, old carpeting and even old jeans are ending up in cars -- and not just thrown in the backseat or trunk.
They're being recycled and turned into car parts, such as insulation and instrument panels, as automakers increasingly use recycled parts to cut costs and waste.
For years, automakers have used recycled steel and aluminum in vehicle structures, hoods and engines. Almost all of the metals in the engine are recycled. Other recycled parts, particularly those made of plastic, have traditionally been kept out of the drivers' sight.
Now these recycled plastics and fabric, which typically would end up in landfills, are taking a more prominent role in vehicles, as part of dashboards and exterior parts.
The change comes as high oil prices, a key ingredient in plastics, send plastics prices up and as a broad public interest in environmentalism grows.
Still, it's not a simple transition to replace new materials with recycled ones. The recycled plastics and fabrics that automakers are moving toward must make economic sense and pass stringent testing to make it into a vehicle.
"You have to make sure that the quality is there," said Carol Kordich, Ford Motor Co.'s lead designer for fabric strategy and sustainable materials. "That's the one common denominator."
Recycled plastics typically don't take paint as well as new plastics, which is why designers have kept them under the hood or body carriage and behind tires.
"The customer doesn't see a lot of this," said Lora Herron, a bio- and recycled materials engineer at General Motors Corp.
In the Cadillac XLR, CTS and STS models, GM uses a mix of new plastic and recycled tires as insulation to keep engine noise out of the vehicle interior.
Nissan Motor Co. uses recycled front bumpers to make splash shields to go around the tires and also brackets that reinforce new front bumpers.
Ford uses recycled plastic battery cases to make fender liners, which protect the underbody from debris.
The automaker also uses recycled jeans and scrap fabric as padding fortrunk liners.
Designers and engineers like Herron and Kordich say they're looking for more ways to build recycled materials into their vehicles.
GM is using recycled nylon from old hotel carpeting to make the exterior mirror casings for crossover vehicles, like the GMC Acadia and Buick Enclave crossover vehicles.
The automaker has included plastic from recycled water jugs and the front panels of vending machines in the instrument panel of the 2009 Chevrolet Equinox.
On its 2009 Escape, Ford is using yarn that was scrapped from the manufacturing of new seat fabric to make the seat surface.
"We're working with our suppliers and trying to get the costs down for some of these green developments," Kordich said. "Now that they see we're serious, they're coming to the table with alternatives."
Contact JEWEL GOPWANI at 313-223-4550 or
jgopwani@freepress.com
.