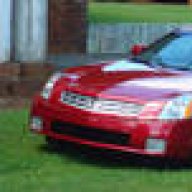 Joined

Dec 27, 2009
Messages

1,151
Location
My XLR/V(s)

2005 Crimson Pearl XLR
I've had very few problems with Crimson Pearl, but I recently had a very frustrating experience with OBDII!

In the state of North Carolina, your vehicle has to pass a State Inspection. It includes an actual inspection of safety items as well as a test of your OBDII System. This is for emissions compliance. When you go to have your vehicle inspected, they plug their terminal into the OBDII connector under the dash and read your vehicles information.

Back in September, I was on the way home from an American Red Cross event at Charlotte Motor Speedway. I was on the interstate highway when the Check Engine Light came on. Once I arrived home and Crimson Pearl was snug in her garage, I checked the tightness of the gas cap, just in case. It was fine. It had started to rain shortly before the light came on, so I thought that something might have gotten wet and caused the problem.

The next time I drove Crimson Pearl, the light was still on and I noticed a "chuffing" noise coming from the car. I was able to determine that the noise was related to engine speed. Later examination after I removed the engine cover revealed that an emissions line had come disconnected at a connector. I reconnected it and the noise went away.

I drove the car a few more times but the Check Engine light stayed on. Eventually, I took Crimson Pearl to my dealer for a visit with my XLR Technician. He connected his Tech II terminal and cleared the light. He told me that he could see the error and it would have been caused by the disconnected line. He also told me that it would probably take some additional driving to clear or reset the codes.

In NC, your vehicle must have passed an inspection no more than 90 days before the date when your license plates need to be renewed. It was getting close to the expiration of the license plates and I was concerned if the codes had cleared, so I took Crimson Pearl up to a service facility and Inspection Station owned by an acquaintance of mine. I told him about my concern and his technician used an OBDII code reader to check things out. He found that two items were "Not Ready" and that would result in a failure of the inspection. He stated that you could pass with ONE "Not Ready", but not two.

He advised me to drive the car 100 miles and we would check it again. So, I drove it about 50 miles down the interstate highway, stopped and had lunch, and returned back to the Inspection Station for a total of just over 100 miles. He checked again and I still had two items "Not Ready".

So, over the next few weeks, I drove Crimson Pearl on several occasions to add miles and trips. I took Crimson Pearl back to the Inspection Station and had codes read again. STILL had two items indicating "Not Ready"!

I had been wanting to purchase an OBDII code reader anyway and one of the vendors that I deal with had a good sale on one, so I purchased it. I was able to see the two items that were "Not Ready" on my reader.

I talked to the technician at the Inspection Station who I have known for several years. He suggested that I start the car when dead cold and drive it at least 100 miles without shutting the car off. He said that he thought that might clear those items.

So, I filled Crimson Pearl with fuel on Saturday to be ready for Sunday. On Sunday, we took her out for a nice afternoon drive. The weather was sunny and about 58 degrees. I drove her 151 miles without shutting the engine off.

Today, I connected my OBDII Code Reader and saw NO items that indicated an issue. I took Crimson Pearl to the Inspection Station and had the technician check for himself. He verified that it was "ready". We proceeded with the inspection process and the vehicle was connected to the Inspection Station terminal. The test was completed and everything was OK.

The technician told me that on some cars, he mentioned Mazda, you might have to drive as many as 800 miles to clear the codes.

The moral of the story is this, you may have to drive over 100 miles without shutting the engine off to clear a code once the problem is resolved!