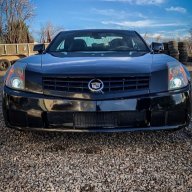 Joined

Jan 17, 2021
Messages

8
Location
My XLR/V(s)

2005 Black Raven XLR
Hello Everyone,
This weekend, my friend and I successfully installed a complete Infinity audio system with a 5 Channel Infinity amp and Sony Head Unit. I was able to bypass the Bose amp and retain all steering wheel controls as well as ACC (some threads have had problems.)

Equipment:
To Connect the Sony XAV-AX1000 head unit, I purchased the Metra 99-3030B Dash and Wiring Kit from crutchfield and wired it up exactly how the instructions said to. (There are speaker wires coming off of the head unit harness, but we won't be using those.) Everything in this kit, helps retain factory settings and steering wheel controls when you take out the factory head unit.

In the dash the L & R Bose 3 1/2" speakers were replaced with Infinity 4" speakers, the center speaker was not used in our installation. The 4" will require some custom fabrication.
In both the doors the 10" Bose Sub was replaced with an Infinity Shallow Mount 10" Sub, this step requires some custom fabrication to hold the sub in place.
As for the seats, all Bose tweeters were replaced with Infinity 3/4" tweeters, and once again, these guys require custom fabrication.
The 5 channel amp was installed in the middle of the trunk, (no biggie, I don't put anything back there anyways.)

Wiring:
The Dash Speakers and Door subs had new speaker wire run through the center console, along with the RCAs and Remote Turn On Wire from the head unit, to the amp in the trunk. The tweeters in the seats are connected together at a point in the cars wiring. So what we did, was take schematics of the Bose amp connectors and cut the 2 pairs of wires that send signal to the Right and Left set of Tweeters. New speaker wire was soldered to the cut wires and then ran through the center console with the rest of the wires. Power wire was ran from the battery through the car down the passenger doorsill and up to the amp in the trunk, ground wire was ran through the fiberglass in the trunk and grounded to the cars frame above the exhaust.

All connections were made to the amplifier, fuse put in, car turned on, and success! We have power on the amp and sound through the speakers! Made sure the top could go up and down without any problems then bolted the amp down and wrapped it up!

Installation took a long and hot 2 days, but in my opinion, the pay off was huge, I can now enjoy my music with Apple CarPlay and a great all around sound!
I've included a couple of photos, I can upload more when I get the chance.