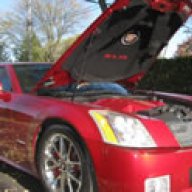 Joined

Sep 20, 2013
Messages

224
Location
1. I had Trickle Charger/Battery problems last Winter. This Spring the trunk would unlatch when I opened the Drivers Door! Then the trunk started opening and closing with no key or person nearby.
I determined the Battery was dead and installed a new Premium one. Problem continued.
In desperation I unhooked the Battery for 2 weeks. Upon reconnection, everything has worked fine since. Perhaps the Computer re-booted or the 28 modules smartened up?
2. Often the inside button to open the Passenger door does not work. I have found that pressing the Unlock button on the Drivers door seems to make the button work!
3. I put a Choke cable from the Hood Latch to the inner fender well for quick access in case of dead Battery.
4. I ran a 10 ga. wire from the main fuse box battery connection to just beneath the front spoiler Marette cover. Quick access for boost or Battery Charger. That was before the Emergency Hood opener was installed.
5. Sometimes the Trunk Lid will not remain open. I found that cycling the top a couple times temporarily fixes that. Anyone have a cure?
6. Not pleased with the new Format here.
Question. Did XLR's come with drilled and slotted disc brake rotors?