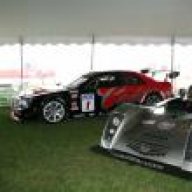 Joined

Oct 16, 2008
Messages

3,843
Location
#06-08-44-012E: DVD Navigation Update Program, Navigation Disc Diagnostic Aid, AVN Software Update Discs and Ordering Information - (Apr 20, 2010)
Subject:
DVD Navigation Update Program, Navigation Disc Diagnostic Aid, AVN Software Update Discs and Ordering Information
​
Models:
2002-2010 GM Passenger Cars and Trucks (including Saturn)
2004-2010 HUMMER H2, H3
2005-2009 Saab 9-7X
​
Attention:
Please direct this information to your Sales Consultants, Service Consultants, Parts Personnel and Used Car Department. This bulletin ONLY applies to North American dealers/retailers.
​
This bulletin is being revised to include the 2010 model year and update the usage table. Please discard Corporate Bulletin Number 06-08-44-012D (Section 08 - Body and Accessories).
DVD Navigation Update Program​
The data on the DVD map disc ages at a rate of 15-20% per year. As the data ages, the functionality of the navigation system declines. Offering GM customers new navigation DVDs will ensure that the customers have the latest information for their system.
General Motors offered a Navigation Disc Update Program for 2006 and 2007 model year vehicles. This program concluded on December 31, 2009. The DVD Navigation Update Program policy has changed and customers are no longer eligible for free annual updates, however, a navigation DVD update disc can be purchased for $199 (USD) + shipping.
If the navigation disc is needed for a warranty situation, the disc can be purchased for $120 (USD). The dealer must provide a VIN and RO# to qualify for the reduced price. The dealer must call the GM Navigation Disc Center, as this option is not available on the website.
The GM Navigation Disc Center launched on March 15, 2006. There are two ways to obtain an updated disc:​
•
Via the web through gmnavdisc.com​
•
GM Navigation Disc Center 1-877-628-3472​
Navigation Disc Diagnostic Aid​
The following table can be used to identify acceptable discs for testing the navigation unit's map drive functionality. This should only be used to verify the map drive's ability to read the map disc properly and to determine if there is an issue with the unit's map drive or the disc. Some functions, such as voice recognition, may not work properly with some of the discs in the list. If the disc is found to be defective always contact the GM Navigation Disc Center to obtain the most recent disc for the vehicle.
Vehicles
RPO
Map Disc(s) That Can Be Used
Note
2008-2010 CTS/CTS-V
UAV
15226455
20904449
Map data resides on hard drive
2003-2009 Vibe
U1A
15105609
88973742​
2006-2010 Lucerne
U3U
20945286
10396714
15878293
25853487
25880099
25956691
20883771​
2007-2009 Acadia
UZR/U3R
2007-2009 Escalade
U3R
2010 Escalade
UUM
2007-2009 Equinox
U3U
2007-2009 Outlook
UZR / U3R
2007-2009 Torrent
U3U
2007-2010 VUE
U3U
2008-2009 Enclave
UZR/U3R
2009-2010 Traverse
UZR/U3R
2010 Traverse
U4H/UUM
2003-2006 Escalade
UM8
10390370
10392191
15105609
15792651
15906573
25847541
25956245
20855830
20945770​
2003-2006 Yukon
UM8
2004-2009 Envoy
UM8
2004-2007 H2
UM8
2004-2007 Rainier
UM8
2004-2007 Rendezvous
UM8
2004-2009 Trailblazer
UM8
2005-2006 Avalanche
UM8
2005-2006 Suburban
UM8
2005-2006 Tahoe
UM8
2006-2007 Terazza
U3U
2006-2007 Venture
U3U
2006-2010 H3
UM8
2006-2007 Montana
U3U
2005-2009 9-7X
UM8
2006-2009 Uplander
U3U
2006-2008 Relay
U3U
2003 CTS
U2V
25733240
25733241
25733242
25733243
25733244
25733245
25733246
25733247
25733248​
2002-2003 Aurora
UM8
2003-2007 CTS/CTS-V
UAV
09320NA
10389369
15269166
25766903
25813528
For 25813528 - the disc may have p/n 25813529 on the label
2006-2010 DTS
U3R
15804409
15934919
15931508
25850927
25912408
25974486
20857425
20861673​
2007-2009 Avalanche
UVB/U3U
2010 Avalanche
UUK/UUL
2007-2009 Suburban
UVB/U3U
2010 Suburban
UUK/UUL
2007-2009 SRX
U2V
2007-2009 Tahoe
UVB/U3U
2010 Tahoe
UUK/UUL
2007-2009 Yukon
UVB/U3U
2010 Yukon
UUK/UUL
2008-2009 H2
UVB/U3U
2002-2005 DeVille
U3R
10389450
15798916
15923893
25753025
25767790
25861392
25979939​
2002-2004 Seville
U3R
2004-2006 SRX
U2V
2004-2009 XLR
U2R
2005 Corvette
URB
10381281
10381886
15779679
15794606
15924195
15932106
25852830
25976806
20861474​
2005-2009 Grand Prix
U3R
2005-2010 STS
YQ4
2006-2010 Corvette
U3U
2007-2009 Saab 9-3
UBF, U1A, U3U
AVN Software Update Discs​
Technical Service Bulletins are sometimes generated to address specific navigation radio operational or performance issues. When a navigation radio bulletin is issued, it may contain instructions to utilize an advanced vehicle navigation (AVN) software update with a specific part number. GM dealers must order advanced vehicle navigation (AVN) software update discs as directed in the specific bulletin.
AVN software update discs are for the dealer to update the navigation radio software only. They do NOT update or replace the navigation map disc that is supplied with the vehicle. Please order these parts only as needed. There is a limited supply of these discs available. Do not order these discs for stock. AVN software update discs can be used to reprogram more than one vehicle. The first update disc for each P/N is free. Subsequent copies of the same P/N for the same dealer will cost $50 (USD).
To obtain an AVN software update disc, follow the specific ordering information provided in the bulletin.​
© 2010 General Motors. All rights reserved.