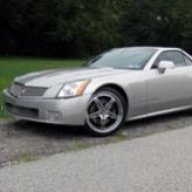 Joined

Jan 1, 2009
Messages

346
Location
My XLR/V(s)

2006 Silver XLR-V
After two long months, I finally have my new tires and wheels mounted on my 06 XLR-V.
Forgeline SP3P 20" 3-piece wheels... hidden hardware, chrome, with
break-away stems, and internal TPMS brackets.
http://www.forgeline.com/<wbr>products/performance-series-<wbr>step-lip/19inch-and-20inch-<wbr>performance-series/sp3s.html
They were spec'ed and ordered by D3 for me while keeping in mind that I may do a 6-piston front and 4-piston rear brake upgrade. So the offsets and such were set to make room for them in the future.
255/35/20 front and 285/30/20 rear Michelin Pilot Sport PS2 tires.
http://www.michelinman.com/tires/ultra-high-performance-sport/pilot-sport-ps2/
I wanted the widest possible tire in the rear since I've been having issues keeping the tires from spinning when driving aggressively. the 285's fit just fine (and there maybe room for a little more
)
SureValve break-away stems:
http://www.hcwsinc.com/<wbr>gallery.htm
I was initially concerned that the ride would be harsher moving from the 19" to the 20" tires, but moving from run-flats to non-run-flats took care of that... in fact, I think that these new tires ride better and quieter than those Pirelli's that come OE (and the wet traction was terrible as well).
I guess the only downside is that I now have to carry a plug-kit and air-pump incase I get a flat.
Photos below (car is a bit dirty
):