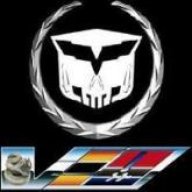 Joined

Jun 3, 2010
Messages

1,079
Location
My XLR/V(s)

2006 Black Raven XLR-V; 1996 Eldorado ESC-V
Event Schedule For 2014
The Ohio Mile
Located at Airborne Park, southeast side of the town of Wilmington, Ohio just off Interstate 71 midway between Cincinnati and Columbus.
Track entrance is off of Airborne Road. An address to use for your GPS is 2870 Old State Road 73. This is a business across the street from the entrance of the track.
Racing dates for the 2014 season for the Ohio Mile. We use FM Radio for speed broadcasts. Frequencies will be posted as you come into the track.
May 3-4
June 7-8
July 12-13
Sept 27-28
Spectators $10 a day or $15 for the weekend. Be sure to bring your lawn chairs. We broadcast the speeds on CB Channel 1.
Cars and Bikes compete at all events.
– The Hot Rod Magazine Top Speed Challenge will be held at the April meet. For detail on past years' rules, look here. Note that the current rules for the HRM Challenge have not been announced, so check Hot Rod Magazine's upcoming issues or check back here for more detail when the rules are announced.
– The Motorcycle Top Speed Shootout will be held at the September meet.
Daily Schedule:
Friday:
Gates open at 8:00AM
8:00 AM until 5:00 PM – Track setup (welcome to anyone who wants to volunteer)
10:00 AM until 4:00 PM – Registration
Noon until 4:00 PM – Vehicle inspections (on a limited basis as inspectors are available)
4:30 PM – Rookie Orientation *
Gates open at 6:00PM
Saturday:
Gates open at 6:00AM
8:00 AM – Registration – Vehicle inspections
8:30 AM – Drivers' Meeting
9:00 AM – First vehicle on course
11:30 AM – Lunch Break
11:30 AM – Rookie Orientation *
12:00 PM – Resume Racing
6:00 PM - End Saturday Racing
Gates open at 8:00PM
Sunday:
Gates open at 6:00AM
8:00 AM until 4:00 PM – Racing
Gates open at 6:00PM
* Mandatory attendance at Rookie Orientation for all competitors