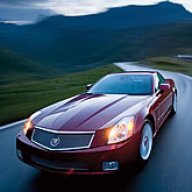 Seasoned Member
Staff member
Site Administrator
Joined

Oct 7, 2006
Messages

5,358
Location
My XLR/V(s)

Not yet!
I'm kind of curious what everyone's opinion is on this:
-Rob
--------------------------------------------------------------------------
Please GM, Fix the Corvette
By The Mechanic | October 12, 2009
Edmunds Inside Line
This semi-regular column is written (in his own blood) by an automotive sage and noted malcontent, known as The Mechanic. Mercilessly beaten as a child with rolled-up back issues of old car magazines, our free-spoken hero developed a unique "for your own good" take on cars and the auto industry, along with an unfortunate habit of setting himself ablaze. Later, after a distinguished career as an automotive journalist and magazine editor, he cast off the reins of his musty oppressors, carved out his superego with a plastic spork and became The Mechanic.
Before I begin, let me say that the following is not an attack on the people who buy Corvettes. They are good, clean, patriotic car lovers, and I think they should all be applauded for buying American.
I mean it from the bottom of my heart. Every barrel-chested baldy (sorry, retirees) and stripper (sorry, Bambi) who bought a Corvette recently deserves our respect and admiration for spending their hard-earned cash on America's sports car. God bless them all. I hope they enjoy their cars.
This column is not about them. It's about the Corvette itself, which sucks.
Full Story:
Straightline