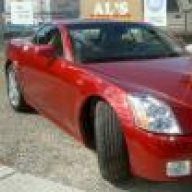 Joined

Oct 17, 2008
Messages

3,638
Location
My XLR/V(s)

2007 Red Jewel XLR
[h=2]This was on the cadillacvnet.com site. Thought it sounded interesting for those of you in CA, so thought I'd post it here...
Redwoods Road Trip 2014[/h]
Redwoods Road Trip 2014
Disclaimer:
---------------------------------------------
This a pay your own way event. This means even me the organizer pays my own way to attend. As noted in other events I have organized, this is where the insanity of what I do comes in. Don't ask I don't get it either. I recently made a website to help broadcast day drives and these road trips.
---------------------------------------------
This is a road trip event for anyone and everyone. This is not a race or rally so if you are looking for a Gumball event this is not the event for you. The event does have fun back roads driving and some great stops. For references on past events look up Euro Cars Road Trip Yellowstone and California 500 Miglia.
Register here: http://raddrives.com/catalog/index.p...&product_id=52
Deadline to register is April 5th for decals to be mailed. Final registration is April 14th, decal pickup at event start.
Event details and registration:
Redwoods Road Trip – April 26 - 28
The Redwoods Road Trip is a fun three-day event that takes us through the land of giants. The event starts in Novato and heads north up the Pacific Coast Highway, making stops along the way for pictures and to socialize. The key stop for the first day is the Point Arena Lighthouse Museum and lunch in Mendocino. Day two is all about seeing the giant redwoods along the Avenue of the Giants, Lady Bird Johnson Grove, and Big Tree Wayside. Day three the group drives home with one more stop to see the Redwoods and ending in Redding for participants to make their way home.
Unlike rallies and road course events, we encourage people to stay in a group and stop at the planned destinations, as this is a road trip not a rally. However, the stops and activities are suggestions, not mandates. Our format is for those individuals, couples or families, who want to have an adventure as well as make new friends with fellow enthusiasts. We mix the day up between driving sections, photo stops and sightseeing opportunities for everyone. This is not a race, so if you are looking for a competitive event this is not for you.
Fees schedule
I worked out group rates for all the activities and two nights of hotels. The hotels also include a full hot breakfast for hotel 1 and continental for hotel 2. The totals below are for the two nights of hotels, event insurance, decals with your number choice and shipping.
- 2 nights with King Bed $282.92
- 2 nights dual queen beds - $284.84
The 2013 Redwoods Road Trip Itinerary: April 26 – 28
Day 1: Meeting Location
Date:
April 26th
Address:
Starbucks - 132 Vintage Way, Novato, CA 94945
Time:
8:00am
Depart:
8:30am - drive start
Activity:
Registration and assist with decal application. There will be several stops along the way north for participants to take pictures of the breath taking California Coast.
The major stop for the day will be at Point Arena Lighthouse Museum
Address:
45500 Lighthouse Road , Point Arena, CA 95468
Time:
~11:00am arrive and 11:30ish departure
Lunch stop will be in Mendocino
Address:
Mendocino Cafe - 10451 Lansing Street, Mendocino, CA 95460
Time:
~12:10pm arrive with a 1 hour lunch stop
After lunch, we will drive and make a stop at Mendocino Park for quick photos and then head north to Fort Bragg. On the way to Fort Bragg, we will make a stop at Point Cabrillo Lighthouse for photos and a quick tour of the grounds. Once in Fort Bragg, we will make a fuel stop for those who need to top off their tanks.
Hotel stop for Day 1 – Best Western
- Includes full hot breakfast
Address:
701 Redwood Drive Garberville, CA 95542
Time:
~ 5:00pm
Dinner at:
Amillias - 443 Melville Road, Garberville, CA 95542
Day 2: Walking with giants
This day will be focused on making stops at several trails that take you in and around the giant redwoods of the area. These are easy trails and are not that strenuous. Make sure to have a charged camera, as you will be taking lots of pictures. Leave from Garberville at 9:00am On the DOT
Stops on the Avenue of the Giants trail:
- The F.K. Lane Grove
- Founder Tree Grove
- Eternal Tree House (for gifts and souvenirs)
Lunch stop day two will be in Eureka: Brick & Fire Bistro
Address:
1630 F Street, Eureka, CA 95501
After lunch, we will make a fuel stop before driving to the Thomas H. Kuchel Visitor Center for maps and pictures. After the Visitor Center we will head to Lady Bird Johnson Grove to walk the trails there. The last stop for the day will be Big Tree Wayside to conclude a fun day of walking amongst the Giant Redwoods.
Hotel for Day 2: Quality Inn and Suites
Address:
3535 Janes Road, Arcata, CA 95521
Continental breakfast included
Lunch will be at: Alibi - 744 9th Street, Arcata, CA 95521
Dinner will be at: Lost Coast Brewing Company
Time:
7:00pm
Address:
617 4th Street, Eureka, CA 95501
Day 3: Drive home
The drive home will start for the group at 9:00am from the hotel. We will take Highway 36 over to Grizzly Creek Redwoods State Park. From here, people can either trek back to 101 to head to the Bay Area, or do the full loop to Red Bluff to enjoy an amazing road of twists and turns. We advise you do the Highway 36 run, as the road is amazing.
As with all these events, they are meant to be fun a social so tell others as all are welcome.
Register here: http://raddrives.com/catalog/index.p...&product_id=52
​