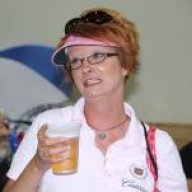 Joined

Oct 17, 2008
Messages

2,581
Location
My XLR/V(s)

Cubby's, RIII Attendee, Midwest Marauder Alcohol Czar
While the barber is lathering the man up for his shave, the man expresses to the barber how he has a hard time getting a close shave on his cheeks.

The barber replies with a solution and pulls a small wooden ball out of this cabinet drawer. "Place the wooden ball between your cheek and gum on the right side and you will have a close shave on that side."

The man does this, and the barber shaves the right side of his face.

"Wow," exclaims the man, "that is great!" He puts the ball on the left side of his mouth, and with muffled voice asks, "Wht happons if I akkidentally swawo du bawll?"

The barber says, "Just bring it back tomorrow like everyone else.

​