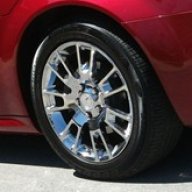 Joined

Apr 18, 2011
Messages

1,103
My XLR/V(s)

2009 XLR Crystal Red Metalic
Sandy,

Glad to hear that your tire rupture turned out as well as it did! Thanks for sharing your experience with us.

For me personally, this just reinforces my thoughts that when I replace the tires on

Crimson Pearl,

I'm going to stick with run-flats!

I still would not go back to run flats if I could turn back the clock, these tires handle so much nicer and smoother. I have been driving for over 40 years and this was my first blow out. As for this situation, we could not have driven home on it, nor would WalMart fix it, nor do they stock
run flats in that odd size so
I would have had to get a replacement. Had this happened another day of the week that part of the story may be different if I could have be able to go to a speciality tire shop.

Anyway, Steve took the tire to my sons tire shop and he inspected it and said there was no sidewall damage, no chord damage and was in an ideal spot in the tire for repairing so it was not as bad as I had thought. He said they have successfully repaired much worse and as long as it holds air (and he could see no reason it wouldn't) he had no reason to replace the tire. Also there was no way he would let his momma out there in her cherished car if he felt it was a risk.