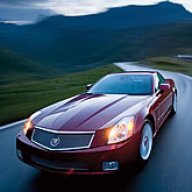 Seasoned Member
Staff member
Site Administrator
Joined

Oct 7, 2006
Messages

5,451
Location
My XLR/V(s)

Not yet!
GM, fallen symbol of U.S. might, files for bankruptcy
Automotive News
June 1, 2009 - 8:00 am ET

DETROIT/WASHINGTON (Reuters)
-- General Motors filed for bankruptcy today, forcing the 100-year-old automaker once seen as a symbol of American economic might into a new and uncertain era of government ownership.
The filing is the third-largest in U.S. history and the largest-ever U.S. manufacturing bankruptcy.
The decision to push GM into a fast-track bankruptcy, and provide $30 billion of additional taxpayer funds to restructure the automaker is a huge gamble for the Obama presidency.
But in a sign of progress in the government's high-stakes effort, a bankruptcy judge approved the sale of substantially all of U.S. automaker Chrysler's assets to a group led by Italy's Fiat S.p.A. in an opinion filed late on Sunday.
Chrysler's bankruptcy, also financed by the U.S. Treasury, has been widely seen as a test run for the much bigger and more complex reorganization of GM.
President Barack Obama is due to speak on the auto industry shortly before noon Eastern time today. A news conference by GM CEO Fritz Henderson will follow.
The GM plan as detailed by U.S. officials is for a quick process that would allow a much smaller GM to emerge from court protection within 60 to 90 days.
'The hard part'
"Now the hard part begins, which is making GM and Chrysler competitive. If they don't do that, then we'll be doing this all over again in a few years," said Christopher Richter, auto analyst at CLSA Asia-Pacific Markets in Tokyo.
"The immediate implication is that the companies are going to get smaller and so market share is up for grabs, which means that rivals like Toyota, Honda, Nissan and Hyundai are going to gain share."
Since the start of the year, GM has been kept alive with U.S. government funding as a White House-appointed task force vetted plans for a sweeping reorganization that will be undertaken with $50 billion in government financing.
By preparing to take a 60 percent stake in a reorganized GM, the Obama administration is gambling that the automaker can compete with the likes of Toyota Motor Corp. after GM's debt is cut by half and its labor costs are slashed under a new contract with the UAW.
The governments of Canada and the province of Ontario agreed to provide another $9.5 billion to GM in a late addition to the plans for the bankruptcy that have been taking shape for weeks, U.S. officials said.
GM plans to close 11 U.S. facilities and idle another three plants. It has not provided an updated target for job cuts but had been looking to cut 21,000 factory jobs from the 54,000 UAW workers it now employs in the United States.
The UAW would have a 17.5 percent stake in the "new GM." The Canadian government would own 12 percent stake and GM bondholders would get 10 percent.
'Reluctant investor'
Officials involved in the planning for GM said the White House was a "reluctant investor" in GM but had to prevent a liquidation that analysts say would have cost tens of thousands of jobs at a time when the economy is mired in recession.
GM alone employs 92,000 in the United States and is indirectly responsible for 500,000 retirees.
"We want a quick, clean exit as soon as conditions permit," Treasury Secretary Timothy Geithner told students at Peking University in Beijing. "We're very optimistic these firms will emerge without further government assistance."
Analysts said that while there were large risks to the Obama administration's approach, it had at least succeeded in pulling GM back from the brink of collapse.
"I think they have a much greater chance of emerging as a healthy company now than they did just six months ago," said Aaron Bragman, an analyst at IHS Global Insight. "Nobody gave them any possibility of emerging as a whole company."
U.S. officials said there was no plan to provide any further funding for GM and insisted that all of the Detroit 3 could survive. Ford Motor Co has not sought emergency federal aid.
"We do believe, and completely endemic in the president's decision was a belief, that this country can support three domestic successful viable auto companies," a senior Obama administration official said.
Goal: Profits at 10 million
In the case of GM, the goal of restructuring is to allow it to return to profitability if U.S. industry-wide auto sales recover even slightly to near 10 million on an annual basis.
Until now, GM had counted on a recovery to the 16-million-unit mark the industry last saw in 2007 in order to stop losing money, officials said.
Even if GM and Chrysler emerge swiftly from bankruptcy this summer, the autos task force will stay in business -- shifting to an investment management role.
Senior administration officials said on Sunday there was plenty to keep the task force staff busy, monitoring the government's stake of about 60 percent of GM, and less than a 10 percent stake in Chrysler.
The task force is led by Wall Street investment banker Steven Rattner and labor negotiator Ron Bloom, and includes top White House adviser Lawrence Summers and U.S. Treasury Secretary Geithner.
GM's bankruptcy is the most carefully orchestrated Chapter 11 filing in the history of American business.
Descent into Chapter 11
The automaker's final descent started with President George W. Bush administration's emergency aid announcement on Dec. 19 and accelerated in late March when the new Obama government gave it 60 days to restructure.
While the "new GM" is expected to emerge quickly from court protection, its shuttered plants, stranded equipment and other spurned assets would be left to liquidation in bankruptcy.
Al Koch, a managing director at advisory firm AlixPartners LLP, will be appointed chief restructuring officer in charge of liquidating those GM assets.
A veteran restructuring adviser, Koch has had prominent roles in Kmart Corp.'s restructuring and other turnarounds.
Over the weekend, GM won support from investors representing 54 percent of its $27 billion in bondholder debt for the U.S. government's plans.
Bondholders could take up to 25 percent of GM if it recovers to be worth what it was in 2004.
The bondholders' support does not ensure court approval but gives the company an important symbolic victory that bankruptcy experts and analysts say will help GM's case.
Final preparations
In the past week, GM has also concluded an amended agreement with the UAW under which the union will receive a 17.5 percent stake in a restructured company and other debt and preferred stock instead of $20 billion in cash.
GM, founded in 1908, rose to dominate the U.S. and global auto industries under the stewardship of pioneering chief executive Alfred Sloan, who famously pledged that the automaker would deliver "a car for every purse and purpose."
By the mid-1950s, at the peak of its success, GM had some 514,000 employees. It accounted for about half of U.S. car production, and its sales were twice as large as the No. 2 corporation, Standard Oil.
GM's stock fell to 75 cents on Friday, a level last seen during the Great Depression on what was expected to be its last trading day before bankruptcy.