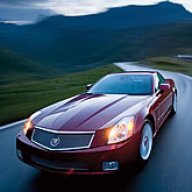 Seasoned Member
Staff member
Site Administrator
Joined

Oct 7, 2006
Messages

5,451
Location
My XLR/V(s)

Not yet!
FOR RELEASE: 2008-11-06

Goodwrench Busts Auto Care Myths One Myth at a Time
Effort begins by educating consumers that 3,000-mile oil changes are a thing of the past
GRAND BLANC, Mich . – Goodwrench is sending a few automotive maintenance myths to the scrap heap in an effort to help consumers save money, time and wear and tear on the environment. The effort continues with the biggest myth in the business, the often-recommended 3,000-mile / three-month oil change.
GM is debunking this myth with its patented engine Oil Life System (OLS). Because GM's OLS tells vehicle owners exactly when to change their oil based on individual driving habits, a motorist who drives an average of 15,000 miles per year, this could mean between two to three fewer oil changes annually.
" The GM Oil Life System monitors combustion events, engine temperature and other parameters to gauge the oil's life," said Matthew Snider, GM's lead engineer for the GM Oil Life System . "Over the years, millions of test miles have been accumulated to calibrate the system for a variety of vehicles. Keeping pace with technology, the system continues to be upgraded periodically to account for advances in lubrication and engine design."
Besides saving time and money, cutting out unnecessary oil changes also helps protect the environment. According to Margo Reid Brown, director of the California Environmental Protection Agency's California Integrated Waste Management Board (CIWMB), just one gallon of oil that makes its way into our waterways can pollute a million gallons of water.
More than 97 percent of GM vehicles sold today in the U.S. and more than 31 million GM vehicles currently on American roads are equipped with the OLS. The system is based on an algorithm that tracks engine revolutions and temperature, and predicts oil life based on these parameters and driver use. If all drivers of GM vehicles currently equipped with the system in the U.S. use the system as intended, they would save more than 100 million gallons of motor oil consumed annually, compared to the 3,000 mile interval.
The American Petroleum Institute states that more than 1 billion gallons of motor oil are sold each year in the U.S. Of this, about 185 million gallons of used motor oil are disposed of improperly each year – dumped onto the ground, tossed into the trash or poured down the drain, according to the U.S. Environmental Protection Agency.
Earlier this year, the California Environmental Protection Agency's California Integrated Waste Management Board (CIWMB) and General Motors joined forces to encourage drivers to follow their vehicle manufacturer's recommendations on oil changes.
"Drivers across the country can do their part by debunking this myth and not wasting oil that still has life by changing it prematurely," said the CIWMB's Brown.
How OLS works
GM's Oil Life System uses a special computerized algorithm that monitors engine speed and temperature, and continuously examines engine conditions to determine when it's time to change the motor oil. GM's Oil Life System will automatically adjust the oil change interval based on engine characteristics, driving habits and the climate in which the vehicle is operated. Even with an advanced technology like the Oil Life System, it is still a good idea to periodically check a vehicle's oil level before going on long road trips or after extensive driving.
GM's service schedule is based on the Oil Life System, allowing for a more consolidated service schedule which is a departure from the typical industry approach of basing maintenance intervals on mileage.
Additional debunked auto maintenance myths
Changing a car's oil every 3,000 miles isn't the only auto maintenance myth Goodwrench experts are busting. Goodwrench also helps vehicle owners by dispelling additional automotive maintenance myths that encourage consumers to spend money on unnecessary vehicle repairs that don't improve fuel efficiency, performance and aren't environmentally friendly. Besides changing a vehicle's oil, other vehicle services have changed over the years, particularly within the first 60,000 to 100,000 miles of ownership. Here are some of the most commonly held maintenance myths that have been busted or adjusted based on technologies available on today's vehicles.
Tune-ups: Today's engines have computer-monitored and controlled systems that still need to be checked, but they don't need a traditional tune-up every few thousand miles. A standard tune-up used to call for new ignition parts such as a distributor cap, spark plugs and points and rotors. Besides spark plugs, which usually don't have to be changed until 100,000 miles, today's cars aren't built with points and rotors, and many engines don't have distributor caps that need replacement as often.
Lubrication: Most new cars no longer require chassis lubrication. Having a mechanic install a fitting so the vehicle's chassis can be lubed can lead to additional problems by adding grease and components where none are necessary or originally intended.
Annual radiator flush: Manufacturers have made significant advancements in engine cooling systems during the past few years with closed systems that recirculate coolant. These new systems don't lose coolant as often, and coolant manufacturers have also made advancements in their products' chemical components with synthetic materials, making the seasonal radiator flush almost extinct. It is still important to check fluid levels periodically – especially before long trips – and use the manufacturer-recommended coolant.
Wheel alignment: Although it's important to keep tires properly maintained and inflated, it's not always necessary to have them aligned every time they are rotated. A majority of manufacturers recommend a wheel alignment and wheel balance only if there is a major issue with the car pulling to one side or another.
Unnecessary services: Maintenance services such as fuel injector cleaning and transmission fluid flushes aren't necessary as often anymore. Some routine maintenance services are still needed, but in most cases they aren't, so compare what's being suggested with what the owner's manual recommends – and possibly avoid spending money on unneeded maintenance.
When in doubt, check us out: Visit a Goodwrench service expert or check the vehicle's owner's manual to get accurate answers to maintenance questions. Visit Goodwrench.com's owner's manual section at http://www.goodwrench.com/Tips/OwnerManuals.jsp for more information.
Fall provides a great opportunity to get some of those automotive maintenance myths debunked at a local Goodwrench service lane before winter driving months blow in. Visit a participating GM dealer's Goodwrench service lane and receive a Goodwrench & Go Maintenance Package for any GM vehicle. To find a participating dealer, go to
www.goodwrench.com
.
About Goodwrench
Goodwrench is the service brand for GM vehicles – Chevrolet, Buick, Pontiac, GMC, HUMMER and Cadillac. With dealerships located nationwide and more than 90,000 professionally trained service personnel, the Goodwrench network is one of the largest automotive full-service providers in the industry. Goodwrench technicians receive specialized training from General Motors to provide expert care for all GM cars and trucks. Goodwrench technicians readily use genuine GM replacement parts, which are manufactured to the same specifications of the GM vehicle. For more information, visit the Goodwrench web site at
www.goodwrench.com
.
# # #
CONTACT(S):
Pamela Flores
GM SPO Communications
Phone: 810-606-3107
E-mail:
Pamela.flores@gm.com
Eric Lingaur
MS&L
Phone: 248-458-8649
E-mail:
Eric.lingaur@mslworldwide.com