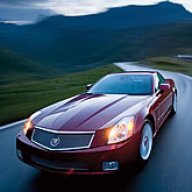 Seasoned Member
Staff member
Site Administrator
Joined

Oct 7, 2006
Messages

5,336
Location
My XLR/V(s)

Not yet!
Man finally gets childhood dream car

Owner of souped-up 1968 titanic Corvette attracts attention as three-day Homecoming concludes

By JENNA MINK, The Daily News, jmink@bgdailynews.com
Saturday, July 16, 2011 10:29 PM CDT
Adrian Vergot grew up playing with Hot Wheels and watching the television show "Speed Racer." He was constantly disappointed that few cars actually resembled his childhood icons, so last year he purchased the ultimate hot wheels.
Vergot, of Pittsburgh, brought his 1968 titanic Corvette to the 30th annual National Corvette Homecoming, which wrapped up Saturday at the Sloan Convention Center. Vergot was one of hundreds of Corvette enthusiasts who flocked to the three-day event, showing off their cars that ranged from the newest Corvettes to cars that were manufactured decades ago.
Full Story:
Bowling Green Daily News
​