Joined

May 8, 2017
Messages

147
Location
I had to replace my rear suspension leaf because it was nearly cracked in half on my 2004 XLR with 87K miles. The rear was sitting very low and the tires were rubbing the wheel liner. I ordered a new one through my local chevy dealer and also borrowed their tool for compressing the leaf to get it out. FYI, when my dealer ordered the part there was only one in the whole GM inventory at a dealer in texas and they would not release it. The texas dealer said they have been replacing these often and needed it for their customers. I waited 3 weeks for mine, I guess they made a new batch so there are a few available now.
Here is a pic of the car before the fix, notice the sagging rear end.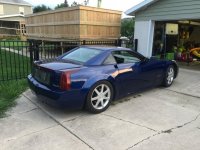 So first I got the car up on the lift and then proceeded to setup the compressor. Once I had it set up and compressed the leaf I disconnected the right rear suspension sensor from the lower a-arm. Then I marked the front lower a-arm alignment bolt so when I put it back it would be in the right spot. Next I compressed the leaf, removed the 2 a-arm bolts and lowered the rear a-arm, removed the 2 plates holding the leaf to the rear cradle and removed the old leaf. If you can talk somebody into helping you I would recommend it. Much easier with four arms!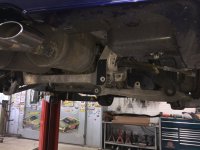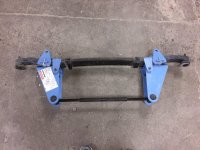 Here is the old leaf next to the new one. Note the wear on the ride height adjusters at 87K miles.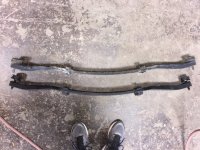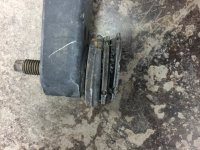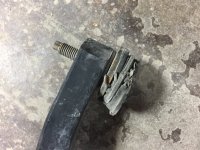 So the installation of the new leaf is this process in reverse. Remember to use loctite on all your fasteners when putting it back together and clean and grease the area where the rubber ride height adjusters contact the a-arms.
Last edited: