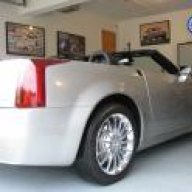 Joined

Oct 16, 2008
Messages

1,253
Location
My XLR/V(s)

2004 Light Platinum, President, "Midwest Marauders"
Well, to continue our original thread, we're all here in Madison, Indiana. We've had a GREAT day driving around and looking at this beautiful town. The weather has been great - in the high 60's and sunny. We've seen world-famous hard candy fish made (I think I should have gotten an employee discount), seen freighters come through the locks, shopped at EVERY chocolate store in town (Thanks, George!) and had a wonderful dinner at the Key West Shrimp House. THanks again to our WONDERFUL organizers, Bruce & Kathy (Cadillac Tech & Photo Girl). Our hotel is on a steep hill, so we're in the lobby drinking (well, SOME of us are!

). We'll post pictures tomorrow.