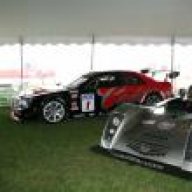 Joined

Oct 16, 2008
Messages

3,797
Location
Document ID: 1991764
#99-08-64-016B: Use of Silicone for Weatherstrip Maintenance - (Jun 22, 2007)
Subject:
Use of Silicone for Weatherstrip Maintenance
​
Models:
2008 and Prior GM Passenger Cars and Trucks (including Saturn)
2008 and Prior HUMMER H2, H3
2005-2008 Saab 9-7X
​
This bulletin is being revised to add model years. Please discard Corporate Bulletin Number 99-08-64-016A (Section 08 - Body and Accessories).
In the past, questions have been raised regarding the proper care and maintenance of weatherstrips. The purpose of this bulletin is to clarify which materials are recommended for use when required.
Periodically, a thin coating of silicone grease can prolong the life of the weatherstrip. The silicone will reduce wear in the contact areas as well as reduce squeaking and sticking conditions. During very cold or damp weather, more frequent applications may be necessary.
Important: Be careful in areas where clothing may come in contact with the weatherstrip, as silicone or dirt may be transferred to clothing. ​
Part Number
Description
12345579 (U.S.)
10953481 (Canada)
Goodwrench Dielectric Silicone Grease (or equivalent)
Lubricant Silicone Grease
3634770 (U.S.)
10953518 (Canada)
Goodwrench Weatherstrip Lubricant (Krytox*) (or equivalent)
Lubricant
*The use of KRYTOX for coating weatherstrips is allowed, but not required.
GM bulletins are intended for use by professional technicians, NOT a "do-it-yourselfer". They are written to inform these technicians of conditions that may occur on some vehicles, or to provide information that could assist in the proper service of a vehicle. Properly trained technicians have the equipment, tools, safety instructions, and know-how to do a job properly and safely. If a condition is described, DO NOT assume that the bulletin applies to your vehicle, or that your vehicle will have that condition. See your GM dealer for information on whether your vehicle may benefit from the information.​
WE SUPPORT VOLUNTARY TECHNICIAN CERTIFICATION​
© 2008 General Motors Corporation. All rights reserved.
Bruce