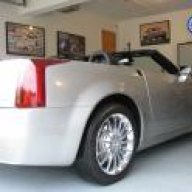 Joined

Oct 16, 2008
Messages

1,255
Location
My XLR/V(s)

2004 Light Platinum, President, "Midwest Marauders"
So, my tiny little brain is whirring around in circles as usual, trying to find optional (read: CHEAP) ways of accomplishing things. One of the "things" involves the exhaust on my (base) XLR.
NOT an option: Buy a Corsa exhaust, which equals big $$$$ (for me, anyway, with this crappy economy).
POSSIBLE OPTION: Buy a (used) XLR-V exhaust (from someone on the Forum who has replaced their factory exhaust) and install it on my base XLR. Add a "Mild2Wild" switch and VOILA (or maybe NOT voila - I'm not sure if the pipes would fit).
1) Does anyone have a factory XLR-V exhaust system that they want to sell? I'd only need the mufflers at the end of the car, not the whole system.
2) Does anyone know if the mufflers would actually be interchangeable?
Thanks in advance for your opinions and answers!!!