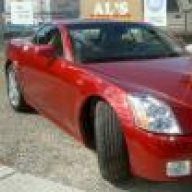 Joined

Oct 17, 2008
Messages

3,647
Location
My XLR/V(s)

2007 Red Jewel XLR
All I can say is... WOW!!! Arlington flyover

Two Air Force Pilots, Major Howard V. Andre Jr. and Major James E. Sizemore, were recently buried at Arlington National Cemetery and were honored with a flyover by civilian pilots. The Air Force pilots were Killed In Action over Laos during the Vietnam War and their remains were only recently discovered and returned for proper burial at Arlington. This Flight of Honor was truly awesome for the other pilots to plan and conduct it.
It's a shame that someone that gives their life can't get a flyover, but the president orders all flags to half mast for Whitney Houston when she overdosed. Hard to figure these things out.
All, please take a couple minutes and watch this video from a local news outlet in the Orlando area. I didn't see it on any of the major news programs, but I thought you would like to see it. God bless those who did the flyover and God rest the souls of the two pilots lost so long ago!
What a great thing those heroic Airmen did! I also understand that they covered all the cost including a large amount for the fuel.
Arlington Flyover
​