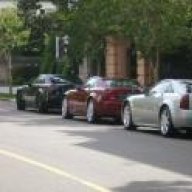 Joined

Feb 4, 2009
Messages

44
Location
My XLR/V(s)

2005 XLR Lt Tarnished Silver
RIV Drive "The Fredericksburg Loop"
A summary for the "Fredericksburg Loop" driving trip to the towns of Gruene and Fredericksburg on Friday 22May09.
Summary of some of the sites and agenda listed below;
We will Gather at 8:30 at Hampton Inn Lobby. I will have copies of the map to handout prior to the drive.
Will leave hotel at 9:00, the group should Arrive at
Gruene,
Texas
about 10:00
The historic town of
Gruene
was Established by German farmers in 1845
There is a large parking lot behind the "Gruene General Store" located by main roads (shown on the Map)
__The following are some of the businesses in Gruene.__
_Gruene General Store
- Selected as one of the 40 best places to visit in Texas
_Gruene Hall
"Oldest Dance Hall in Texas" - Gruene Hall is legendary. Not just because it's the oldest, continually operating dance hall in the state of Texas, but also because it has served as both a starting point and a warm limelight to some of the most prolific talent in American history. It has helped launched the careers of such musicians as George Strait, Lyle Lovett and Hal Ketchum, among others. This famous stage has also welcomed the likes of Bo Diddley, The Dixie Chicks, Jerry Lee Lewis, Garth Brooks and Willie Nelson
_
The Grape Vine
- Specialty Wine, beers, cigars, gourmet gifts and food, and wine accessories for the home.
_
Bucks Pottery
- Located in a "turn of the century" barn, featuring hand-thrown, wood fired pottery.
_
Miss Ruby's
- Famous Ya Ya Peppers, candles, jewelry and home decor.
_
Hampe House Antiques
- Great antique furniture as well as decorative accessories, gourmet foods and gift items
_
Gruene Outfitters -
Top-of-the-line line outdoor wear, fly tackle, footwear and fine accessories
Lunch option
_ Gristmill River Restaurant & Bar
Since 1977. Unique Texas style dining in an 1870s cotton gin beneath the water tower on the Guadalupe River. They have a wide variety of dished from burgers to steaks at fairly reasonable prices. They will give us a off menu reservation and seat us together if we arrive to eat by 11:30am or otherwise it is first come first serve.
Leave Gruene
about 12:30 or when you prefer
__Drive to Fredericksburg Texas
__
My plan is to drive together to Gruene, then drive to your points of interest along the way to Fredericksburg Texas.
The drive should be beautiful with the lavender and wild flowers in bloom. A lot of the flowers along this route was planted with the help of Lady Bird Johnson foundation.
_____
Optional site seeing on the drive
__________
_
Canyon Lake
- Canyon Lake is known as the Water Recreation Capital of Texas. Canyon Lake has beautiful clear water on the rim of the beautiful Texas Hill Country, Canyon Lake has a shoreline of 80 miles.
_LBJ National Park
- Lyndon B. Johnson National Historical Park tells the story of our 36th President beginning with his ancestors until his final resting place on his beloved LBJ Ranch. This entire "circle of life" gives the visitor a unique perspective into one of America's most noteworthy citizens by providing the most complete picture of an American president
Visit can be 30 minutes to the entire day
Free Driving Permits & Map and a CD of Tour Route
( 2 hours suggested )
_Flower Farms
-
Wild Seed Flower Farm
"
Biggest in Nation"
_Fruit Farms
- fresh peaches, strawberries and blackberries should be available at the fruit farms
.
_Wineries
-
Torre Di Pietra, Becker Vineyards & Lavender Fields, Grape Creek Vineyards
--
Optional route on Map
--
_Luchenbach Texas
. - Dance Hall & General Store
Legendary Picker Circle with Mississippi's Danny Terry
Starts at 1:00 - Free Admission
Welcome to Fredericksburg Texas,
Willkommen!
located in the very heart of the beautiful Texas Hill Country! We've been blending German heritage and Texan hospitality for over 150 years, creating the kind of place that you will want to discover again and again.
Shoppers will find over 150 boutiques, art galleries and antique emporiums, And the men in the crowd can stay busy with the National Museum of the Pacific War to wineries and a brew pub.
The Fredericksburg's Visitor Information Center is willing to rope off a area in the CVB parking lot which is located a block or so from Main St. This will be great considering that people may be arriving at different times based on where they stop at along the way.
Dinner Options
In
Fredericksburg
I have had a couple of suggested dinning options one is a Small German place called
Der LindenBaum
or the German Micro Brewery called
Fredericksburg Brewing Co.
The restaurants are first come first serve dinning
(see links below)
While in Fredericksburg visit the sites and have dinner and there will be a group drive back to San Antonio will leave the parking lot around 8:00.
All of these stops are optional, this agenda is just to keep people knowing what is going on and have the option to catch up with the group.
--Below are some links--
Gruene, Texas
http://www.gruenetexas.com/history.html
Grist Mill Restaurant
http://gristmillrestaurant.com/about.html
LBJ National Park
http://www.nps.gov/lyjo/planyourvisit/things2do.htm
Fredericksburg, Texas
http://www.fredtexflavors.com/
http://www.fredericksburg-texas.com/index.asp
Fredericksburg
Restaurants
Der LindenBaum
http://www.derlindenbaum.com/
Fredericksburg Brewing Co
.
http://www.yourbrewery.com/
.
The following slides are the handout pages for the
Fredericksburg Loop
. There are town to town driving routes and visit sites along the way.
I will have copies of this to handout prior to the drive at the Hampton Inn Parking Lot. (
the paper copy is much easier to read
)