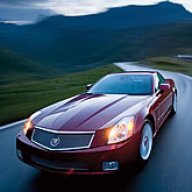 Seasoned Member
Staff member
Site Administrator
Joined

Oct 7, 2006
Messages

5,449
Location
My XLR/V(s)

Not yet!
GM will end XLR
Production will stop; about 40 local workers to be laid off
By JENNA MINK, The Daily News, jmink@bgdailynews.com/783-3246
Monday, January 26, 2009 11:49 AM CST
General Motors plans to end production of the Cadillac XLR, which is made at the General Motors Bowling Green Assembly Plant.
The company anticipates production will cease this spring, impacting about 40 employees at the plant, said Sharon Basel, communications manager for General Motors.
The plant employs a small assembly crew dedicated to XLR production. Those employees were recently notified of the production cut. It has not yet been determined when those workers will be laid off, but it will likely be this spring, said Paul Graham, plant manager.
"Obviously, it's difficult when a plant loses a product," he said. "We want to continue to grow our volume as much as we can. So it's been difficult."
The plant is closed until Feb. 23 because of GM's financial woes and about 154 workers, in both XLR and Corvette assembly, will be indefinitely laid off by March 1.
"No one's really happy about (the XLR loss)," Graham said. "Everyone in the plant wants to do what we can to build great vehicles. No one's feeling good about it."
GM decided to stop XLR production as part of a strategy to help conserve money. The XLR was chosen to be eliminated after a year of slipping sales, Basel said.
"Models like the XLR often have limited product life cycles," she said. "Difficult decisions have to be made to ensure that we can continue to develop, engineer and produce the most critical products in our portfolio."
And during a recession, consumers are leery of purchasing high-priced vehicles, she said. Local prices for the XLR are listed from $87,000 to $106,000, according to Cadillac's Web site.
"It's very specialized in terms of who would buy a vehicle at that price point," she said. "We're seeing the market downturn impacting all segments and some more severely than others."
Sales of the XLR decreased 28 percent last year compared to 2007. About 1,250 XLRs were sold in 2008, Basel said.
As consumers try to cutback spending and buy more practical vehicles, it is not surprising that XLR sales have plunged and GM has cut its production, said Bill Parsons, managing director for the Global Advanced-Leadership Center and chair of the Global Automotive Conference.
"The XLR is a very nice vehicle, but people are making choices to buy more serviceable vehicles that's a greater utility to them," he said. "I think it is something to be anticipated, and the XLR will rebound, but it's going to take a more sound economy."
Still, the plant focuses the bulk of its production efforts on the Corvette, a vehicle that Parsons said will survive the national automobile crisis.
"I think the Corvette will be fine," he said. "The Corvette has a real broad appeal ... Corvette has an increasing appeal outside the United States, too, so that's a positive."