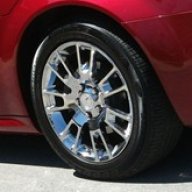 Joined

Apr 18, 2011
Messages

1,103
My XLR/V(s)

2009 XLR Crystal Red Metalic
Steve & I have been very busy in our retirement.

A few weeks after the buisness sale we went to Florida for a month, then came back for Christmas with the family.

Two days after Christmas we flew to England to visit some friends for nearly 2 weeks. We did a fair bit of tourning including a couple of days in London: finally got to see Big Ben, a life long dream! Mark that one off the bucket list!
We were supposed to be having a private tour of the Aston Martin plant when our trip had originally been scheduled for September (postponed due to the delay in the sale of our business) but sadly we could not get that rescheduled due to the Christmas New Years break schedule......very disappointed but there will be other trips......

Arrived home here on Monday and now we are leaving this Sunday for a week in Mexico with some other friends! We will be home for just shy of 2 weeks then back to Florida for 3 months! I will be flying home for a weekend at teh end of February to receive a lifetime acheivement award from our Chamber of Commerce, otherwise I will be spending those 3 winter months in Florida riding our motorcycles as much as possible as I wont have the XLR there.

Life is good.......