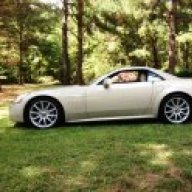 Joined

Aug 1, 2015
Messages

478
Location
My XLR/V(s)

2006 XLR base
Very nice ride! My was giving to me about 35 years ago we pulled motor to have it rebuilt because it sat for years but back then they could not find the 6th piston, so sold that motor to a friend that had a 8' bed and now have a LS 1 & tranny setup for it when I'm ready! I'm going to change out the frame to update to new brakes and suspension, power steering....ect.

So many great choices today to choose from to build it the way you want it! I've had my eye on this this rebuild to look something similar!

View attachment 6056

Sent from my iPhone using Tapatalk

Dan & Wendy

"05 GRAND DADDY"
That'll look awesome. I like it especially because you don't see them at every car show you go to. Studey p/u's aren't real common! I'd sure have a chrome grille on it though - guess I'm too old school. ha ha
I've had my little p/u since about 1980. The restoration is about 25 years old but still holding up pretty well. No resto-rod though, everything on it is as Old Henry built it - but it is sure no pleasure to drive nowadays without p/s, p/b or A/C!!!