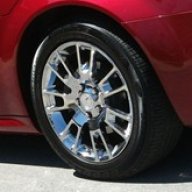 Joined

Apr 18, 2011
Messages

1,088
My XLR/V(s)

2009 XLR Crystal Red Metalic
Y'all want to go to an Ontario (Canada) car show on Saturday August 17th? It is actually a Corvette show but I have wangled permission for the XLR's to come. If we can get a half dozen cars there it can pave the way for the future!
Steve & I own a 67 Corvette and we often attend the annual Beach Cruise Corvette show in Wasaga Beach that is hosted by the Wasaga Beach Corvette Club. Wasaga Beach is the worlds longest fresh water beach in the world, it is located 2 1/2 hours from Niagara Falls and the Rainbow Bridge. This show takes place right in the middle of the summer on Saturday August 17th along Beach Rd. If you Google map it and drop the little man on Beach Rd you will see that unfortunatley the Google camera car went thru there in the early fall on a stormy looking early weekday morning; but trust me on August 18th the beach will be crawling with people: right in the middlle of bikini and board shorts season!



Anyway, I contacted the Wasaga Beach Corvette Club and pleaded our case: ......we are kissin' cousins
being the only other car ever built in Bowling Green, MAM Funfest complete w/our own XLR car corral, the Bowling Green Assembly Corvette Club car show...you know, basicaly name dropped etc and we have received permission to attend the show. There will be no judging class for us and you MUST PRE-REGISTER in order to gain entrance and they will reserve a spot for us.

Registration is only $20.00, you can register online or print and mail. Please add XLR in the spot they want your plate number, then write your plate number. You will receive an email from the head of registration to print and bring with you to gain access.

I like this show because it is at Wasaga Beach, a great place to visit with lots to see and do and plenty of spectators!
Click this link: Beach Cruize - Wasaga Beach Corvette Club If you want to make a full weekend of it there are lots of hotels and beach house rentals, but we plan to driveeup and back.

Let me know if you want to attend, although the registrar will be tracking us, she asked that I also keep track of attendes. We can meet at our home (about 1 hr from Rainbow) and drive up together, Steve will be driving his 67 and me in my XLR!