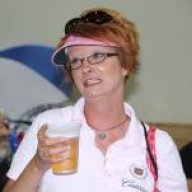 Joined

Oct 17, 2008
Messages

2,581
Location
My XLR/V(s)

Cubby's, RIII Attendee, Midwest Marauder Alcohol Czar
I don't know if anybody is up to date on this show or watches it. I being the realty show junkie, that I am, would like to give the story and start a thread on the show.
This show is on TLC. They are in there five season now which aired May 25th.
Here is a little background to the show. Jon and Kate have been married for 10 years. She took fertility drugs pregnant with twins. Three years later she wanted more children she went through the peocedure again. This time she was pregnant with seven children, she miscarried one embryo. Jon was an IT guy for a cabinet place, Kate a nurse. After the birth of the sextuplets TLC did a couple of specials on a family handle the day to day life raising multiples. Whith High ratings TLC decided to give them a series. Jon & Kate Plus 8 was born.
Now for the controversy. Jon and Kate show started losing their ratings last season, so there was talk that the show would not be renewed after this season. Well all of a sudden Jon was caught with a 22 year old school teacher and there is alligations he is having an affair with her. He has been photographed coming out of a bar with out his wedding ring on and her driving his car. There is a video of him leaving her house at 6:00 am, and of her sunning herself on his front lawn while Kate was out of town. There is also allegations that Kate is also having an affair with her body guard and that she is a really big b**ch.
Now bloggers are saying all this is just for ratings and that there are no affairs. The family makes $50,000-$75,000 an episode, multiplied by 89 episodes gives you 6.6 millio roughly. Not to mention all the freebies they get plus Kate has book deals. Bloggers have also said that they have an open marriage and they won't divorce because of the money.
It has also been announced that now that an investigation has been started to see if this show violates the child-labor laws.
For those of you wondering what the hype is about that is it.
So given all that what are your thoughts.