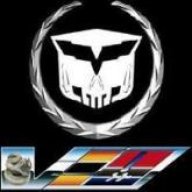 Joined

Jun 3, 2010
Messages

1,079
Location
My XLR/V(s)

2006 Black Raven XLR-V; 1996 Eldorado ESC-V
Hello good people, I have a problem and would like to document my research and development on the forum for others to possibly benefit. I will need some expertise from others on the forum (Cadillac Tech, Whit, 1BADXLR, madcurl, and probably many others).
Here's the rub - I'm tired of having my ass handed to me by a pair of 03 Corvettes and an RX-8 on the autocross circuit. O.K., yes I admit they are better drivers with significantly more experience, but if I can get 20% closer in my lap times, my indexed times will allow me to
stay
in the #1 position in championship points. I know Elwood is heavier and not as sport tuned, so I have begun researching mods to get me close. Keeping the roof down helps with weight transfer; fatter, stickier tires will give me better traction; and upgrading the suspension should improve the loose rear end.
Wheels and tires are all I've done so far. RACING ONLY wheels are C-5 OEM 18x9.5 wrapped in 265/35/18 Michelin Cup tires. The wheels are the lightest available without jumping into custom 3 piece wheels. The offsets will be adjusted with spacers. The tires are almost 2" shorter than OEM but should only affect Speedometer accuracy since they are all the way around.... although the magride might get confused (haven't tested that yet).
What I'm currently researching is parts compatibility between the XLR and the various Corvette models. I know I have to change my front sway bar to reduce the loose rear end. And after talking to several Vette owners replacing the springs should lower/stiffen the car to compete directly with the Corvettes. Before the shouting begins, I know its an XLR not a Vette. I just want to take it up a notch for the race season and will then return it closer to stock when I'm done. I'm pretty sure the best setup for me is going to be ZR1 front sway bar and Z06 Front spring.
First lets establish some basic information. We know the XLR and C6 Corvette share several components especially in the suspension. The corvette, however, has several models. These different models also have different suspension packages. So correct me if I'm wrong but the base model has FE1/FE2 (F55 mag ride) suspension, the Z06 and Z51 have FE3/FE4 or F55 suspensions where the specs on the front are the same but differ in the rear, and the ZR1 has the FE5 suspension.
XLR Front Spring (part # 15233394) is the exact same part number as an 08 Corvette spring (FE1). Hollander Interchange says the XLR and C6 FE1/FE2 share Sway Bar Interchange Part #524-00528A. Yet, the Front Sway bar is very close to the ZO6 part# (XLR:25919501; Z06/FE4:25919502). Based on reading night and day for weeks, I can only assume the XLR front sway is 30MM vice the Z06 31MM, but they are completely interchangeable. As a matter of fact, all the sway bars front and rear (04-09 XLR, 97-04 C5, 05-12 C6) are completely interchangeable.
So lets start with the Sway bars.
GM Sway Bar Measurements:
C5 Base:.....................23 MM Front / 19.1 MM Rear / 3.81mm/2.0mm thickness
C5 Z51 (97-99):...........25.4 MM Front / 21.7 MM Rear
C5 Z51 (00-04): ..........28.6 MM Front / 23.6 MM Rear / 4.15mm/3mm thickness
C5 Z06:......................30.0 MM Front / 23.6 MM Rear / 4.5mm/3.5mm thickness
C6 Base:.....................25.5 MM Front / 17.5 MM Rear
C6 Z06/Z51.................31 MM Front / 27.9MM Rear /25.6 MM Rear
Hotchkis:....................31.75 MM / 25.4 MM
C6 ZR1:......................33 MM Front / 31 MM Rear
Pfadt Johnny O'Connell:.34.9 MM Front / 28.6 MM Rear
T1:............................38.4 MM Front / 27.5 MM Rear
LG Msprts G1:..............39.7 MM Front / 27.0 MM Rear
Not too surprisingly, the price/MM curve is exponential with the C6Z06 at a little over $100 and the T1 (full pro race setup) a little over $1000.
Whereas, the sway bars have different diameters, the springs have different bows and stiffness.
Corvette Springs:
Model Front Rear
FE1/Base 420 657
FE2/F55 420 657
FE3/Z51 502 645
FE4/Z06 526 714
So not only will the spring upgrade improve stiffness. but also lower the car more than we could ever get with just the lowering bolt. I'm afraid the ZR1/FE5 spring will throw everything out of kilter, so I plan to install the Z06/FE4 spring and adjust the lowering bolt to suit the racetrack. Nobody within 500 miles of me has the springs in stock so I'm going to have to buy one and try it. I'm 80% confident that it will fit, but performance is just a guess.
Comments, questions, (Fire suit on) flame away!