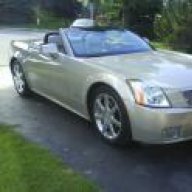 Joined

Aug 31, 2008
Messages

37
Location
My XLR/V(s)

2006 Gold Mist XLR
Hey guys me again.
Alright so we had this great car we spent all that money on and like any car enthusiast we think....how much more can I spend in upgrades!!! Ha ha ha
So let us know which sits or parts you know about that we can upgrade our XLR's with. I personally like this site.
http://www.d3cadillac.com/
Has some basic upgrades for the XLR and XLR-V models. Such as intakes CPU flashes and many supercharger upgrades. More for the XLR-V then XLR
Has anyone seen any upgrades for the body? Oh and man does that new 09 XLR exhaust look awesome. I got a quote for $1800 for the muffles and tips... I think it's a little much. But he did mention it will lower as of next year.
OK...post them and let us have a brief description on what on the site!